Antibacterial Drops: Quantum Dots in Your Eye
S. Himmelstein | July 10, 2017
Quantum dots have transformed the design of solar cells, transistors and LEDs, and now researchers from Taiwan and Canada want to apply them to the treatment of bacterial keratitis, a type of eye infection. This corneal inflammation can lead to vision loss and is currently treated with steroid drops, which can lead to scarring of the cornea. Antibacterial materials can also prove toxic to the affected area.
The researchers devised a one-step method to synthesize carbon quantum dots by heating spermidine, a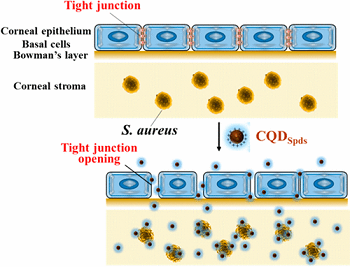 Image credit: American Chemical Societycompound that can boost the effectiveness of antibiotics. The quantum dots were shown to exert effective antibacterial activities against non-multidrug-resistant Escherichia coli, Staphylococcus aureus, Pseudomonas aeruginosa and Salmonella enterica serovar, Enteritidis bacteria and also against the multidrug-resistant bacteria, methicillin-resistant S. aureus.
The materials disrupted bacterial cells without damaging lab animal cells, indicating their potential as antibacterial agents.
Scientists from Chang Gung University (Taoyuan, Taiwan), Université de Montréal (Montréal, Québec, Canada), National Taiwan Ocean University (Keelung, Taiwan), Ming Chi University of Technology (New Taipei City, Taiwan) and Kaohsiung Medical University (Kaohsiung, Taiwan) participated in this research.