Denver Airport Starts Work on $1.5b Gate Expansion Project
David Wagman | May 30, 2018
Work is under way to add 39 gates to Denver International Airport's three existing passenger concourses by spring 2021, an increase in gate capacity of 30 percent.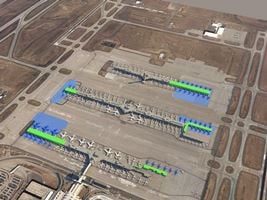 (Click to enlarge.) Artist's view of the expansion project, looking north. Credit: DIAThe new gates will be added to the end of each concourse, providing room for existing carriers to grow and for the airport to accommodate new airlines. All of the gates are expected be operational by spring 2021.
(Read "Fabric Structures: Ancient Approach, Modern Aesthetics.")
The $1.5 billion Gate Expansion Project is being managed by two joint-ventures: Holder Construction and FCI Constructors Inc. on Concourse B-East and Concourse C-East, and Turner Construction and Flatiron Construction on Concourse A-West and Concourse B-West. HNTB Corp. and Jacobs Engineering Group will provide architectural and design services for the project.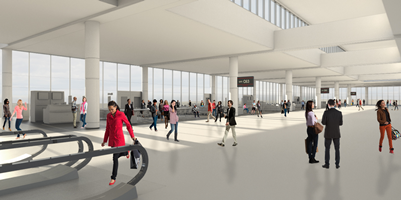 (Click to enlarge.) Artist's view of the C concourse expansion. Credit: DIAThe airport is the fifth busiest in the nation and served more than 60 million passengers in 2017, officials say. Since 2011, the airport has added 11 new airlines, 13 new international destinations and 28 new domestic destinations.
The Denver airport opened in 1995 and currently has 107 gates with 42 apron load positions. The three concourses are configured as follows:
A Gates: 1,900 feet (579 meters) long, 1,220,000 square feet (113,342 square meters)
B Gates: 3,300 feet (1,006 meters) long, 2,033,872 square feet (188,953 square meters)
C Gates: 1,900 feet (579 meters), 789,000 square feet (73,301 square meters)
In 2014, the airport completed work on five new gates on the C Concourse. The $46 million expansion added 39,000 square feet of space to the west end of the concourse. All of the gates are currently occupied by Southwest Airlines.
In the current expansion project, the airport's A concourse will add 12 gates, its B concourse 11 gates and its C concourse 16 gates.
The new gates are one of several projects in the airport's $3.5 billion, five-year capital improvement program.