Built in the U.S.A.: Reagan National Set for $1bn Expansion
David Wagman | March 22, 2017
The Metropolitan Washington Airports Authority launched Project Journey on March 22, a campaign surrounding the planned $1 billion, multi-year capital improvement project at Reagan National Airport.
Project Journey includes construction of two new security checkpoints that connect the concourse level of Terminal B/C to airline gate areas, buildout of an enclosed commuter concourse to replace 14 outdoor gates currently serviced by buses,and future improvements to roadway and parking configurations.
Reagan National's passenger areas were designed to serve 15 million passengers annually. Today, more than 23 million passengers travel through the airport,straining its infrastructure and crowding travelers.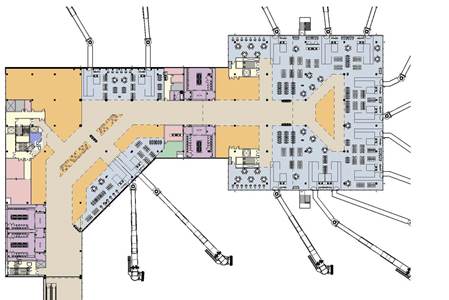 Plan for new commuter terminal at Reagan National Airport. (Editor's note: Investment in critical infrastructure is gaining increased attention at the federal, state, and local levels around the U.S. Engineering360 presents an ongoing series of articles that look at projects, approaches, technologies, and engineering challenges that lie at the heart of this push to modernize existing infrastructure and build for future needs.)
Design has been completed for two new security checkpoints that will be constructed above the Terminal B/C arrivals roadway and connected to National Hall and walkways from the Metrorail subway station and parking garages. The project is estimated to cost $245 million and could be completed in 2020. In essence, the project will move security screening out of the main terminal.
(Read "Built in the U.S.A.: Replacing 559 Bridges in 3 Years.")
Once opened, the new checkpoints will expand capacity from 20 to 28 security lanes, expediting the screening process between Terminal B/C airline concourses and the new commuter concourse. The resulting connectivity is designed to ease gate area congestion and expand access to shopping and food.
A second, $408 million project, would replace 14 outdoor aircraft boarding positions accessed by bus through Gate 35X with a new commuter concourse. The concourse could open in 2021 and would provide regional travelers with direct, enclosed access to planes via jet bridges, waiting and boarding areas, seating options with integrated power outlets and new concessions. The concourse design includes architectural features consistent with the Terminal B/C's exposed metal beams, glass walls and domed ceilings while maximizing open, navigable gate areas and views of downtown Washington, D.C.
One of the most recent improvements at the airport was the 1997 opening of the 1 million square foot North Terminal, designed by Pelli Clarke Pelli Architects. The focus of the terminal is a long steel-​and-​glass concourse formed from two rows of square bays topped by shallow domes. The terminal houses 35 aircraft gates, shops and food outlets, along with 100 ticket counters, 12 baggage claims, three piers where airline gates are located, and a connection to Terminal A.
LaGuardia Airport
Reagan National is not the only Eastern Seaboard airport that is getting an update. LaGuardia Airport in New York City in in the midst of a $4 billion project to transform the dated and cramped airport into a single, structurally unified main terminal with expanded transportation access, increased taxiway space, and passenger amenities.
(Read "$4 billion Plan Unveiled to Rebuild NCY's LaGuardia Airport.")
In October 2016 pile driving got under way to begin constructing the foundation for the new Terminal B. That followed a June groundbreaking that featured New York Governor Andrew Cuomo and Vice President Joe Biden. Construction began on the new 1.3 million square foot 35-gate terminal, along with a new West Parking Garage and other supporting facilities.
LaGuardia's current terminal layout, comprised of multiple terminals, will be replaced by one main, architecturally unified terminal. This will be accomplished by demolishing the existing Terminal B building, which is operated by the Port Authority, and replacing it with a larger structure. This structure will be located closer to the Grand Central Parkway. The new terminal will include a new Central Arrivals and Departures Hall and will link to Delta's Terminals C and D.
Meanwhile, the Dallas/Fort Worth Airport in Texas faces $5 billion to $10 billion in new capital infrastructure projects that could include runways, taxiways and other parts of the airfield. The airport opened in 1974 and handles around 1,800 flights a day. Airport executives know that concrete and pavement are reaching the end of their expected lifespan.
The Airports Council International says U.S. airports have close to $100 billion in infrastructure projects scheduled for the next five years.