This airport will see $5 billion in upgrades over 15 years
David Wagman | June 07, 2019
The Miami-Dade County Board of County Commissioners adopted a capital improvement program at Miami International Airport to fund up to $5 billion in airport-wide modernization projects over the next five to 15 years.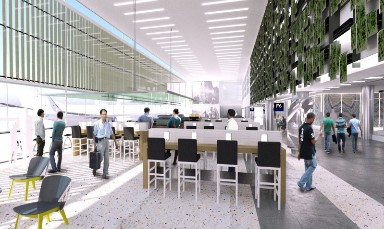 Artist's view of a redeveloped Concourse F. Source: Miami International Airport
Passenger and cargo traffic at MIA are projected to reach 77 million travelers and more than four million tons of freight by 2040.
The capital program is designed to address all of the airport's future capacity and operational needs through five sub-programs:
Redevelopment of Central Terminal concourses E and F
An expanded South Terminal (concourses H and J)
Renovated Concourse D gates to accommodate additional wide- and narrow-body aircraft, as well as larger regional jets
Two new hotels (one which will include a business and conference center with exhibition space) and other miscellaneous landside projects
Expanded aircraft parking positions and warehouses for cargo operations
In 2018, MIA passed 45 million annual passengers, an increase of nearly 1 million over the previous year. MIA also ranks as one of the busiest U.S. airports for international freight, handling 2.3 million total tons of freight in 2018. that was up 60,000 tons from 2017. Overall, the airport generates nearly $31 billion in business revenue each year.