Built in the U.S.A: Denver Airport Upgrade Cleared for Takeoff
David Wagman | August 15, 2017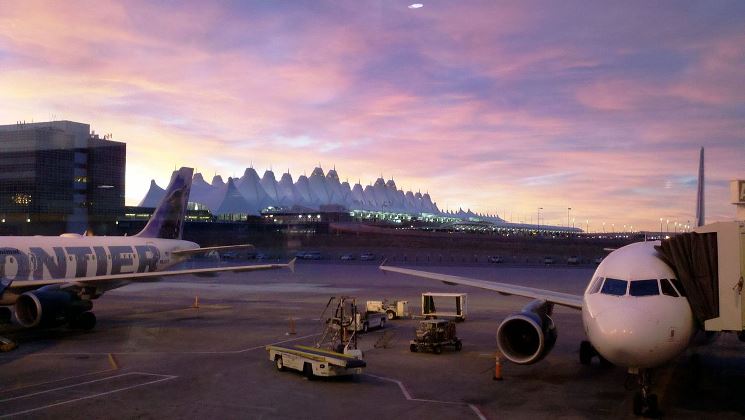 Tent-like structure of the main terminal as seen from the "A" concourse. Credit: WikiMedia
Denver's City Council voted 10-2 on August 14 to approve a $1.8 billion, 34-year public-private partnership contract with Ferrovial Airports to renovate the terminal at Denver International Airport.
The Great Hall contract marks Denver city government's first major public-private partnership at a city-owned building. Contract supporters say it ensures that many cost risks will be borne by Ferrovial and its partners, instead of the airport.
The partnership with Madrid-based Ferrovial and Denver-based Saunders Construction in the next four years will bring big changes for security screening as part of the Jeppesen Terminal renovation.
(Read "Fabric Structures: Ancient Approach, Modern Aesthetics.")
Plans call for relocating all security screening to the north ends of the upper level, and modernizing the checkpoints with faster technology. The project calls for consolidating ticketing areas — shrinking as airlines rely more on self-check-in kiosks — into smaller spaces.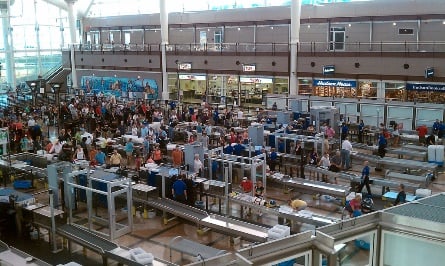 The airport's security checkpoint will be moved from the Great Hall as part of the approved renovation. Over the length of the contract, Ferrovial — which operates London's Heathrow Airport — will manage expanded concessions spaces on the main floor, including contracting with the operators of retail and food outlets.
DIA officials say the roughly 15,000-page agreement offers assurances that the renovation will be delivered on time and on budget. They say that it provides a reliable partner at a time when the airport also will roll out separate projects for gate expansions and other changes that could include adding a seventh runway.
In 2016, passenger traffic through the airport reached 58.3 million. The planned projects are expected to expand the airport's capacity to 80 million a year.
News reports say that the contract includes an up-front cost split with Ferrovial's Great Hall Partners on the set-price $650 million renovation, with the airport paying for 74 percent. However, the airport also will be responsible for a contingency fund covering up to $120 million in large unforeseen construction and design costs, potentially because of airline needs, airport operating decisions and changes in airport regulatory requirements.
Over the 30 years of concession operation, the airport will pay Ferrovial annually for capital repayment and an operations/maintenance reimbursement, totaling $1.2 billion. The airport will receive 80 percent of revenue from the new concessions.
Denver's costs will be covered by the income the airport generates from operations, officials say. The airport is self-sufficient and does not draw on taxpayer money from city coffers.
After the renovation, many of the new concessions spaces will be in a post-security screening section which passengers will pass through on their way to trains to the airline concourses.
That plan is a bet by Ferrovial and DIA officials that the private manager can make terminal concessions more productive than they are now, compared to the much more popular concourse stands.