Denver Airport Officials Boost Gate Additions by 50 Percent
David Wagman | October 30, 2017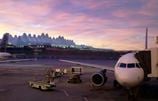 Denver International Airport (DIA) now plans to add 39 gates by 2021 across all three of its concourses, a 50 increase increase from earlier plans.
An airport spokeswoman confirmed the change to the Denver Post newspaper.
The additional gates could cost around $1.5 billion to build. The expansion is in addition to the public-private partnership contract the city approved in mid-August for an overhaul of the terminal. (Read "Built in the U.S.A.: Denver Airport Upgrade Cleared for Takeoff.")
The Denver airport opened in 1995 and currently has 107 gates with 42 apron load positions. The three concourses are configured as follows:
A Gates: 1,900 feet (579 meters) long, 1,220,000 square feet (113,342 square meters)
B Gates: 3,300 feet (1,006 meters) long, 2,033,872 square feet (188,953 square meters)
C Gates: 1,900 feet (579 meters), 789,000 square feet (73,301 square meters)
In 2014, the airport completed work on five new gates on the C Concourse. The $46 million expansion added 39,000 square feet of space to the west end of the concourse. All of the gates are currently occupied by Southwest Airlines.
The terminal deal with Ferrovial Airports included a four-year, $650 million renovation of the terminal to be overseen by Saunders Construction. It includes the relocation of security screening to the upper level. Ferrovial then would manage expanded terminal concession spaces for three decades.
DIA officials in August signed a $45 million contract with WSP USA to serve as the gate expansion project's program manager. WSP USA, formerly WSP|Parsons Brinckerhoff, is the U.S. operating company of WSP, a global engineering and professional services firm.
In 2016, 58.3 million travelers passed through the airport. It originally was built to accommodate 50 million travelers a year. DIA officials are now planning for 80 million passengers a year with the new projects.
The gate expansions will use the existing telescoping design of DIA's three original concourses. The long buildings are connected to the terminal and to each other by a bi-directional underground passenger train system. The original designs built expansion capability into both ends of each concourse.
The newspaper says that two contracts for architectural and design work, each worth $65 million, are under consideration with Jacobs Engineering and HNTB Corp. And airport officials are proposing two construction contracts: $655 million with a Holder-FCI joint venture, and $700 million proposed with a Turner-Flatiron joint venture.
All four contracts would carry five-year terms, with up to three one-year extensions possible if the projects take longer or the airport expands the scope.
DIA's long-term master plan calls for the construction of Concourse D and Concourse E north of the three existing concourses. There is not currently an estimated timeframe for those needs.