Fabric Structures: Ancient Approach, Modern Aesthetics
Winn Hardin | August 18, 2016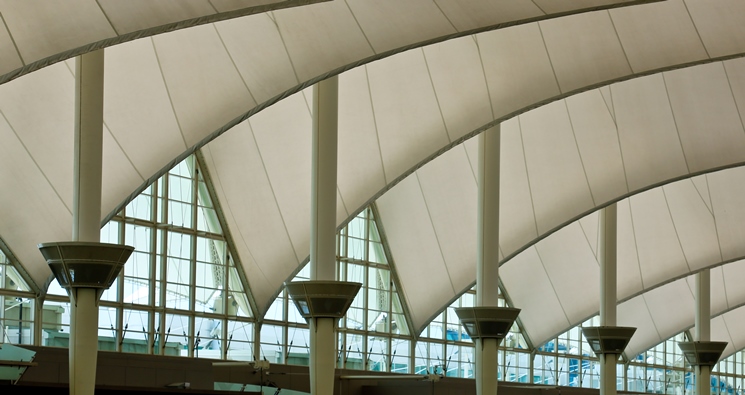 The double-layered PTFE at Denvner's airport terminal ensures sound control, abundant natural light and protection from winter temperatures and heavy snow loads. Image source: Denver International Airport
Fabric structures date back some 40,000 years, when our ancestors first draped animal skins between sticks or over bones for shelter. The advent of woven cloth made these dwellings lighter and easier to transport, a boon to nomadic cultures.
Fabric evolved beyond residential uses, from Moses' tabernacle enclosed in fine linen to the big-top circus tents of the 1800s. Although many cultures have moved on to brick-and-mortar buildings, fabric architectural elements in the modern era have found a permanent home in airports, stadiums, outdoor shopping centers and other commercial applications.
Fabric construction lends itself to lightweight structures, a boon to historically nomadic people such as native North Americans. This photo dates from 1891. Image source: Wikimedia"When you plot the trajectory of man's development in architecture until today, there is a continual linear progression of going from mass structures to lighter structures," says Nic Goldsmith, FAIA LEED AP, senior principal at FTL Design Engineering Studio. "The next logical progression is these membrane structures."
While fabric structures offer naturally lit, unencumbered spans using fewer materials, their design and engineering requires specialized knowledge of membranes and the loads they carry.
Flexible Fabrics
Fabric architecture and engineering may offer several advantages over traditional design and construction methods. In fabric architecture, a membrane is tensioned to a steel framework or cabling system. This can result in large column-free spans, unlike conventional roofing systems that require rigid immediate support.
Another benefit of a fabric structure is its lightweight properties. The most commonly used fabrics average about ¼ lb. per square foot and require less structural steel support than conventional buildings.
Fabric architecture's aesthetic appeal is just as strong its functional one. Fabric's flexible characteristics enable curvature of geometry unachievable using steel, glass or concrete. Because most fabric membranes are translucent, the spaces enclosed within remain bright. LED backlighting can change the structure's look at night.
Membranes: An Overview
Fabric structures typically are made from one of half a dozen membranes that last anywhere from 15 to more than 30 years — much shorter than a regular building's lifespan.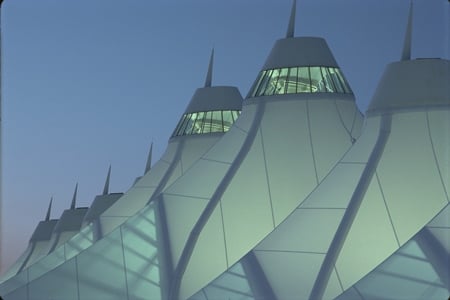 Peaked fabric roofs evoke the Rocky Mountains and early Colorado history when Native American teepees dotted the Great Plains. Image source: Denver International AirportAt the entry level in terms of cost and lifecycle is PVC-coated polyester. The coating includes UV light inhibitors, fire-resistant additives and anti-fungicides. Acrylic or PVDF topcoats further protect the fabric, which requires occasional re-tensioning. The material typically lasts 15-20 years in average climates, but about five years less in sunshine-intensive sites like the southwestern U.S.
Near London's Olympic Village at the Westfield Shopping Center, UK firm Fabric Architecture created a covered performance space with a PVC-coated polyester canopy. Lightweight trusses hold extra loads necessary for performance equipment while they accommodate an integral rainwater management system that carries water from the canopy, through the masts and into drainage channels.
PTFE, which is Teflon-coated glass cloth, has been used in permanent tensile roofs since the 1970s because of its strength and durability. With a lifespan of 30-plus years, the ubiquitous material withstands a wide temperature range and has a reputation for offering excellent fire resistance and shading properties. It also has a good reputation for low maintenance and self-cleaning.
Several prominent projects demonstrate the versatility of PTFE-covered buildings. The Rocky Mountain-inspired canopy adorning the Jeppesen Terminal at the Denver International Airport uses PTFE in a ridge-and-valley design. Dual layers of the fabric membrane in the centerpiece atrium help ensure sound control, abundant natural light and protection from winter temperatures and heavy snow loads.
PTFE takes a sculptural approach at London's Serpentine Sackler Gallery, courtesy of the late architect Zaha Hadid and tensile architecture specialist Architen Landrell. The fully insulated fabric roof incorporates double curvature and five elliptical glazed headrings for aesthetic and structural benefit.
A variation of PTFE, expanded PTFE (ePTFE), can withstand repeated folding and flexing without cracking or losing strength. Jacob Schwartz, director of engineering and construction at International Tension Structures, describes the up-and-coming product as "unmatched in its light transmission levels, architectural aesthetic and flexibility."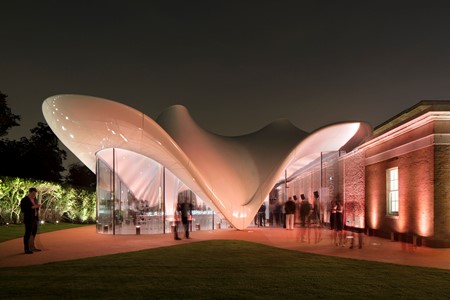 London's Serpentine Sackler Gallery by Zaha Hadid and tensile architecture specialist Architen Landrell. Image source: Serpentine Sackler Gallery © 2013 Luke HayesAnother material, silicone-coated fiberglass, blocks UVB light while transmitting UVA light. This feature allows plants to grow under the structure. Available in a variety of colors, the material has strong fire-resistant ratings and a life expectancy of 25 years.
ETFE Emerges
Over the last decade, ETFE has surfaced in the U.S. as a durable, lightweight alternative to structural glass. This chemically inert clear polymer film offers around 95% light translucency. Its nonstick attributes mean that rain washes away dust and grime. ETFE can be fabricated either as a single-layer membrane reinforced by wire cables or as inflated multi-layer cushions that are attached to an aluminum perimeter extrusion supported by the main building frame.

In the multilayer system, low-pressure air fills the cushions to provide insulation and structural stability against wind and snow loads. An ETFE cushion with three or more layers exceeds the thermal resistance of glass. Expected material lifecycle is at least 30 years.
At the Empire City Casino in Yonkers, N.Y., a 15,000-sq.ft. covered entrance comprises a steel lattice frame supporting an ETFE foil pillow roof system. FTL Design Engineering Studio collaborated with Studio V Architects to design and engineer the structure, which uses integrated lighting and fritted pillows. Fritting is a process that prints silver dot-matrix patterns onto the ETFE to alter the level of solar gain while retaining translucency.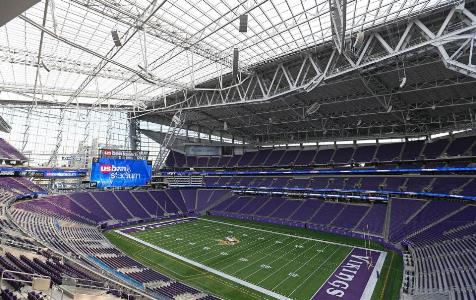 A triple-layer ETFE system covers about 60% of the US Bank Stadium in Minneapolis, Minn. Image source: Minnesota VikingsIn Minneapolis, the ETFE roof at the new US Bank Stadium is unique for a sports facility in the U.S. In lieu of an expensive retractable roof to make the facility usable year-round, this home of the Minnesota Vikings National Football League (NFL) team uses about 248,000 square feet of triple-layered ETFE.
HKS Architects, which developed the Vikings stadium with engineering firm Thornton Tomasetti, has even bigger plans for another NFL stadium. The under-construction multipurpose venue for the Los Angeles Rams will feature an ETFE canopy covering 19 acres.
Counting Crows
Although ETFE is inherently low maintenance, it has to battle one foe in particular. Young male birds, especially in the crow family, see their own reflection in the clarity of the material. "So they give it a good peck because they think it's a young rival male that has wandered into their territory," says Nigel Browne, FCSD, director of design and engineering at Fabric Architecture. "You can get leaks that subsequently need to be patched."
In some ETFE projects he has designed, Browne has added a fine mesh over the top of the material. Not only does the mesh keep the birds away, it also acts as a rain suppressant. "If you are not careful you are going to get an enormous drumming in heavy rain on the roof, so you've got to stop the noise from penetrating into the building beneath," Browne says.
No matter the membrane is selected, architects and engineers must understand how and where the medium is going to be installed, and then "design backwards from those elements," Browne says.
Engineering Considerations
Indeed, designing with fabric often requires a shift in thinking from traditional structural engineering. According to Browne, one of the biggest problems in engineering fabric buildings is understanding the forces that are being applied to the membrane. The fabric gains its stability by having double curvature in opposite planes, which is known as anti-clastic curvature.
"The more we change the shape and have the loads being unequal within the weave of the fabric, the greater load we have to put into it," Browne says. "And the greater load then gets imparted under the steelwork and down to the ground eventually."
The lightweight nature of the fabric structure can lead to misconceptions about load requirements, says Steven Neidig, PE, vice president of engineering for Fabritec Structures LLC. As a result of stretching the fabric into place and the cables or framework necessary to support it, large loads may be transferred onto the supporting building or foundation systems.
"The magnitude of those loads can catch engineers by surprise because they can be significant," Neidig says.
Fabric structure designers typically use a few types of software to develop and test models. Computer-aided design (CAD) software allows engineers to create and analyze conceptual 3D drawings for assessment and approval. In the early stages of project consultation, FTL's Goldsmith says that his firm often will use Rhino software to create and render free forms of 3D models.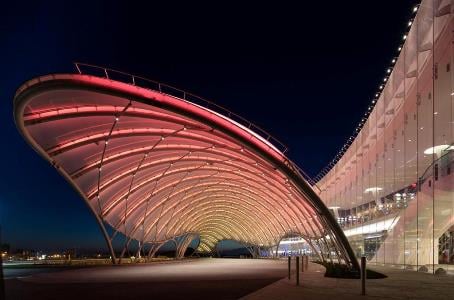 An ETFE foil pillow roof system creates the entrance at the Empire City Casino in Yonkers, N.Y. Image source: FTL Design Engineering StudioAnother well-known computer program in the industry, NDN, is finite element analysis (FEA) software designed specifically for tensile membrane engineers. Neidig describes NDN as a "one-stop shop" because it allows users to model the structure, perform form finding, apply wind and other loading conditions required by building code, analyze the design, and conduct post-processing tasks such as checking steel member and cable sizes, as well as fabric stresses.
The software also serves as a manufacturing tool. "NDN allows the user to create smaller manufacturing templates from the overall finalized fabric model," Neidig says. Fabricators use these templates to seal together individual fabric panels to make one large assembly.
Versatile software allows engineers to take tensile structures in new directions. The Sun Valley Pavilion, a performance facility from FTL Design Engineering Studio at the iconic Idaho resort, consists of a permanent tensile steel cable net structure with wood cladding and a seasonal fabric structure for audience cover. This use of a cable net with wood was among the first of its kind in North America.
Fabric's Future
Just like any engineered structure, fabric assemblies need attention once they've been installed. Even though many of the structures can last more than 30 years when properly designed, fabricated and installed, engineers recommend structural inspections anywhere from annually to every 5 or 10 years.
"Those inspections rarely result in maintenance to the fabrics themselves but instead may result in minor adjustments to the hardware associated with the structures," says Schwartz of International Tension Structures.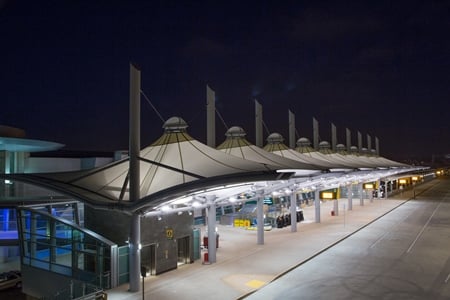 Fabric architectural elements have found a permanent home in airports, such as the arrival area at the San Diego, Calif., airport. Image source: Fabritek Structures.And Neidig says that a misconception exists that "you can just build it and walk away and everything will be fine." You never know what can happen when you're not paying attention, he says.
Architects and engineers who develop fabric structures expect them to become even more dynamic in the future. Applications may include photovoltaic energy–generating skins and water and cooling systems that are woven directly into the fabric.
As a result, design professionals will be able to follow the dictum of 20th century architect Ludwig Mies van der Rohe, "less is more," especially as ETFE replaces glass and wall systems.