13 Reasons Graphene Is a 'Wonder Material'
Tony Pallone | May 17, 2018
The world's first 2D material – graphene – has been the subject of much research since it was first isolated at The University of Manchester in 2004, several decades after it was first discovered. It's sort of the remarkable little cousin of graphite, better known as "pencil lead," which is made from stacked layers of hexagonally arranged carbon atoms. Isolate just one of those layers, and you have graphene.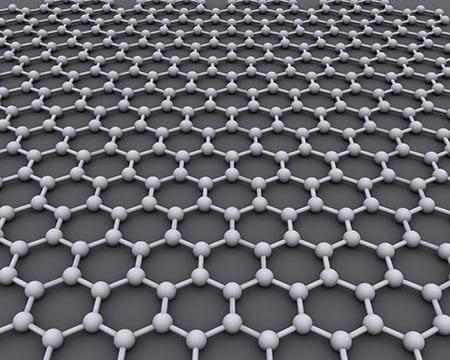 Graphene is an atomic-scale hexagonal lattice made of carbon atoms. Source: AlexanderAlUS / CC BY-SA 3.0.It's been called a "wonder material" thanks to its many unique properties. It's ultra-lightweight, highly elastic, extremely flexible and so thin (a single atom in thickness, or one million times narrower than the diameter of a human hair) as to be nearly transparent – and yet it's 200 times stronger than steel and the most impermeable material ever discovered. It's also an exceptional conductor of both heat and electricity.
Here's a list of 13 areas where this wonder material is being put to wondrous use:
While some of graphene's most promising uses still have technological hurdles to overcome. One significant challenge, for instance, is the difficulty of producing it at industrial scale – not surprising considering the stick-to-it-iveness of the "Scotch tape method" used to first produce the material, which is still used today. But the level of interest in its potential is strong; more than thirteen thousand graphene-related patents have been filed, so our list of 13 is just the tip of the iceberg.
You can learn more at The University of Manchester's graphene applications page, or keep tabs on the homepage of the Graphene Flagship – a European joint research project devoted to bring graphene out of the lab and into society.