New Graphene-based Membrane Speeds Water Purification
S. Himmelstein | February 18, 2018
A new type of graphene membrane for water desalination and purification could render even the water of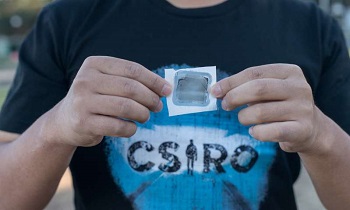 A Graphair sample. Source: CSIROAustralia's Sydney Harbour safely drinkable. The Commonwealth Scientific and Industrial Research Organisation (CSIRO) developed a 'Graphair' process to produce a film with microscopic nano-channels that let water pass through, but stopped pollutants.
The researchers collected samples from the harbor and ran them through a commercially available water filter coated with Graphair. After a 72-hour treatment period, the samples were analyzed and demonstrated to be safe to ingest.
The low-cost graphene film is synthesized via a single-step, ambient-air chemical vapor deposition process derived using renewable sources such as soybean oil. Graphene film is then directly used as an active layer in membrane distillation and exhibits high rates of water vapor flux, excellent salt rejection, long-term stability and sustained antifouling even in the presence of water contaminants.
The commercial membrane filter achieved 99 percent removal with the addition of Graphair.
The research is published in the journal Nature Communications.