Watch: This Wallpaper is (Fire) Alarming
S. Himmelstein | April 02, 2018
A new type of fire alarm not only detects a fire but also prevents it from spreading as it sounds an alarm. Researchers from the Chinese Academy of Sciences designed a nonflammable, heat-resistant wallpaper that incorporates an ink-based thermosensitive sensor. When exposed to heat, the wallpaper is transformed from an electrically insulating state into an electrically conductive one, causing it to automatically trigger an alarm that generates loud sounds and warning lights.
Commercial wallpaper is made of highly flammable materials, such as plant cellulose fibers or synthetic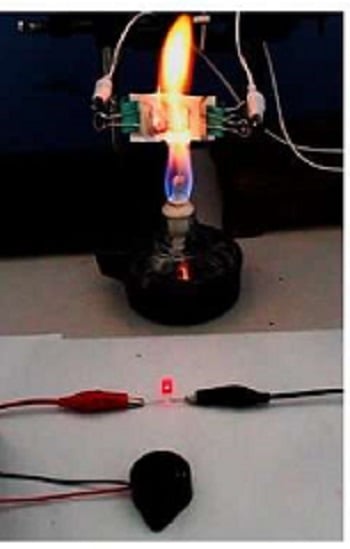 Fire-resistant wallpaper withstands flames as a thermosensitive sensor triggers sound and light alarms. Source: Chen et al./American Chemical Society polymers, materials that can accelerate the spread of a fire. The new wallpaper is based on hydroxyapatite, typically characterized as a brittle, inflexible material. The researchers fabricated ultra long hydroxyapatite nanowires to impart the flexibility needed to make wallpaper.
The thermosensitive sensor is fabricated on the surface of the wallpaper by a simple drop-casting process using a graphene-oxide ink. The tiny sensor is placed on the backside of the fire-resistant wallpaper so that it is out of sight and protected by the fireproof wallpaper.
The graphene oxide sensor is electrically insulating at room temperature, but oxygen-containing groups are removed on exposure to heat, making the material highly conductive. The sensor is connected to an alarm, so when a fire occurs and the sensor begins to conduct electricity, it causes the alarm to go off.
Initially, the graphene oxide sensor burned out very quickly, so that the alarm only lasted for about three seconds. To improve this, the researchers modified the graphene oxide with polydopamine — a material based on the hormone and neurotransmitter dopamine. The modified graphene oxide has a much lower thermal responsive temperature than graphene oxide by itself, so it not only responds to fire more quickly (in about two seconds) but also has a prolonged alarm time of more than five minutes.
The researchers next plan to scale up production of the wallpaper and investigate other applications of the new fire-resistant material. These could include preserving important paper documents and uses in air purification, water treatment and anti-counterfeiting.
The research is published in ACS Nano.