Plastics manufacturing responsible for significant amount of microplastic leakage: Study
Marie Donlon | February 21, 2018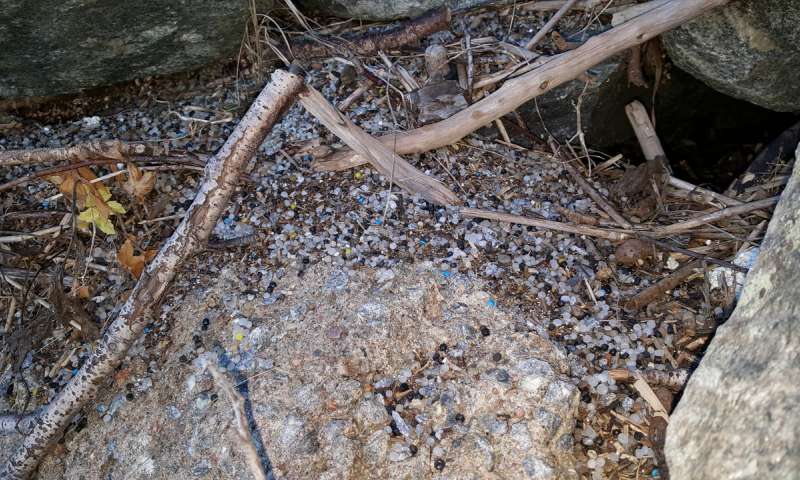 Build-up of pellets at the mouth of the Stenungeån River leading out to the Askerö fjord. Source: Martin Hassellöv
While most studies concerning the impact of plastic pollution on marine life focus on plastic waste such as discarded plastic grocery bags and beverage containers, researchers from Sweden are now turning their attention to the impact that small plastic pellets — typically used as a raw material in the production of a variety of plastic goods — shipped from manufacturing sites to different plants are having on the environment.
"In order to better understand how plastic pellets end up in the environment, we have documented, measured and calculated the flows of the pellets via waterways leading out from the production and distribution plants in Stenungsund where approximately five percent of the polyethene that is used in Europe is produced," says Martin Hassellöv, professor at the Department of Marine Sciences, University of Gothenburg.
Found spread throughout the coastal region, researchers estimated that anywhere from 3 to 36 million plastic pellets are leaking from the Stenungsund production site each year — ending up on nearby beaches, in the fjord and the nearby archipelago.
"When we analyzed the smaller fractions, which are called fluff and fragment, the plastic leakage was more than a hundred times greater than when we only counted the pellets. Moreover, we have seen that there are more leakage problems in conjunction with the transport, cleaning, loading and storing of pellets further along the production chain," says Therese Karlsson, doctoral student at the Department of Marine Sciences.
"The accountability regulations in the Swedish Environmental Code are intended to prevent the leaking of large amounts of pellets, especially in areas like the one around Orust and Tjörn where there are a number of nature reserves," says Lena Gipperth, professor of environmental law at the Department of Law.
Yet, despite laws being in place to prevent such plastic spillage, plastic pellets continue to be found in the stomach contents of seabirds that feed from the surface of the ocean, suggesting that little has been done to enforce those regulations.
The study is published in the Marine Pollution Bulletin.