Company in Norway creates office, school furniture from ocean waste
Marie Donlon | February 04, 2019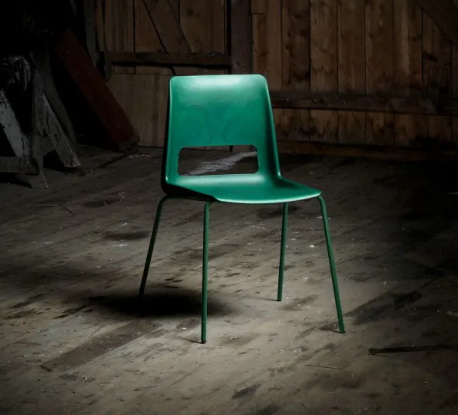 Source: SnøhettaAfter two years of development, a chair composed of plastic from fishing nets will soon be available for sale as seating in schools and offices in Norway.
Created by Norway-based architectural firm Snøhetta, the chair was commissioned by furniture maker Nordic Comfort Products (NCP) who wanted to redesign its R-48 line of office and school chairs using recycled plastic.
To create the remodeled chair, Snøhetta found that within a 12-mile radius of its Norway labs that the salmon industry was paying to have their worn plastic components, like fishing nets, collected and disposed of for a fee. Consequently, the team struck up an agreement with the salmon industry and began collecting the material instead. Using a plastic grinder, the nets were ground into plastic pellets that were then placed inside an injection molding machine and eventually formed into the chairs. Called the S-1500, the newly designed chair sits atop recycled steel legs.
Each pattern, according to Snøhetta architect Stian Ekkernes Rossi, is slightly different thanks to a specific sequence for feeding the plastic pellets into the injection molding machine that results in a marble-like finish. Likewise, the deep emerald color of the chair is achieved thanks to the green, yellow and dark blue hues of the fishing nets, making the addition of dyes unnecessary, according to Rossi.
The S-1500 will completely replace the manufacture of the R-48, which has been in production since the 1960s and has sold more than 5 million units alone in Norway.
"One of our goals was to do a project to inspire and show the industry that you can actually make businesses out of what they today consider as trash," said Rossi. "Through design and architecture, plastic becomes a resource."
The chairs will be available for sale later in the year.
Snøhetta joins a host of other innovators attempting to find solutions for discarded plastic products. In recent weeks, a boat composed almost entirely of ocean plastics and discarded flip flops embarked on a journey off the coast of Kenya to highlight the issue of plastic pollution. Likewise, a photographer in Vietnam created an art installation using 168,000 reused straws, also to raise plastic pollution awareness.