Video: Airlines to explore carbon capture technology
S. Himmelstein | July 20, 2022
A group of major airlines is pursuing the purchase of carbon removal credits to offset the emissions from air travel.
Airbus, Air Canada, Air France-KLM, EasyJet, International Airlines Group, LATAM Airlines Group, Lufthansa Group and Virgin Atlantic have committed to engage in negotiations on the possible pre-purchase of verified and durable carbon removal credits starting in 2025. The carbon removal credits will be issued by Airbus' partner 1PointFive, which plans to build a direct air carbon capture and storage (DACCS) facility in Texas that will be able to remove up to 1 million tons of carbon dioxide (CO2) annually.
As the aviation industry cannot capture CO2 emissions released into the atmosphere at source, a DACCS solution would allow the sector to extract the equivalent amount of emissions from its operations directly from the atmosphere. In this process, a large fan draws air into an air contactor, which is modelled on industrial cooling towers. The air passes over thin plastic surfaces with a non-toxic potassium hydroxide solution flowing over them to trap the CO2 molecules as a carbonate salt.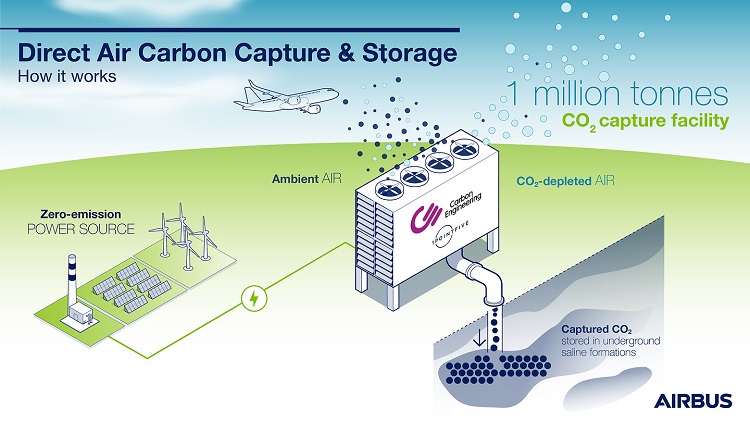 The facility will have a capture capacity of one million tons of CO2 annually. Source: Airbus
The carbonate salt is separated from the solution using a pellet reactor, and the carbon pellets are then heated in a calciner to release the CO2 as pure gas. Processed pellets are hydrated in a slaker system and recycled for use in the original capture solution. The captured gas can then either be stored underground or reused for the production of fuels or other value-added chemicals.
The project is scheduled to be operational by 2024.