Soft Robotic Ventricular Assist for Pediatric Patients
S. Himmelstein | November 28, 2017
Researchers at Boston Children's Hospital, the Harvard John A. Paulson School of Engineering and Applied Sciences and the Wyss Institute for Biologically Inspired Engineering at Harvard University have developed a novel robotic cardiac assist device for patients with one-sided heart failure. The robotic system combines soft actuators with a rigid brace that penetrates into the heart's intraventricular septum to provide gentle pumping assistance to just one side of the heart.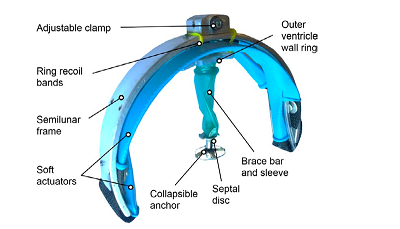 The implantable soft robotic device augments cardiac function in isolated left or right heart failure by applying rhythmic loading to either ventricle. Source: Boston Children's HospitalRecognizing that pediatric heart patients have more one-sided congenital heart conditions, the researchers designed the device specifically for this population.
Mechanical pumps are available to help propel blood through the heart, but these are designed so that blood must run through the pump itself, exposing blood to its unnatural surface.
"Running blood through a pump always requires a patient to be placed — permanently — on anticoagulant medication to prevent blood clotting," said Nikolay Vasilyev, M.D., a researcher in cardiac surgery at Boston Children's. "It can be very difficult to keep the right balance of medication, especially in pediatric patients, who are therefore at risk of excessive bleeding or dangerous clotting."
The new device uses soft external robotic actuators to help squeeze blood through the heart's own chamber. A rigid race component inserted by needle prevents the septum from shifting under the pressure of the artificial "muscle" of the soft actuator. Two distinct versions of the system were configured for the right and left ventricle, each including a septal anchor, a bracing bar and sealing sleeve that pass through the ventricle wall, and a frame embedded with soft actuators that is mounted around the ventricle. The devices are implanted on the beating heart under echocardiography guidance.
In porcine model studies, the soft robotic system contributed significantly to the diseased ventricle's ability to eject blood. The system also made significant improvement in a heart's ability to draw blood into ventricles, which is just as important as the heart's ability to pump it out.
"As the actuators relax, specially-designed elastic bands help return the heart's wall to its original position, filling the chamber sufficiently with blood," Vasilyev said.
The team is now pursuing portability and miniaturization of components, and pans longer duration animal trials to gauge how the system impacts the heart over prolonged tine periods.