Pediatric Heart Pump Engineered by NASA
Engineering360 News Desk | March 30, 2016
NASA scientists have helped a pediatric heart surgeon develop a functional prototype of a conical heart pump that helps circulate blood in children born with only one heart ventricle.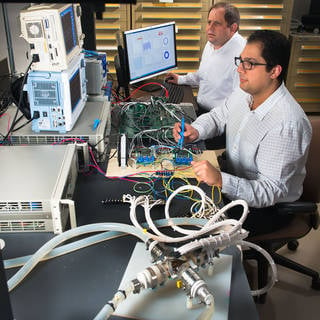 NASA Glenn engineers David Avanesian and Peter Kascak test a flywheel motor designed for a pediatric heart pump. Image source: NASA/Bridget Caswell.Children born with a missing ventricle lose half of the pumping ability to oxygenate and circulate blood. A heart transplant often is the best solution available, but it may be a limited option due to donor availability and short-term success. A second solution is a partial fix called the Fontan procedure, which requires a series of open-heart surgeries to create a passive circulation network to replace the blood pumping function of the missing ventricle.
Dr. Mark Rodefeld, a pediatric heart surgeon at Indiana University, contacted the NASA Glenn Research Center in Ohio to address this issue. Rodefeld came up with an idea to insert a small conical pump, driven by an electrical motor, into an existing Fontan network. The pump would reproduce the pressures and flow coming from the body and head, reducing wear and tear on the single remaining ventricle and extending the patient's life. Engineers spent two years designing, building and testing a bi-conical heart pump, and completed a functional prototype using NASA Glenn's flywheel to allow for traditional motor operation as well as levitation operation (see video).
"I knew I wanted to put a bi-conical motor into the cross section of the network, but I needed experts in flywheel technology at NASA Glenn to design and scale it to size," Rodefeld says.
Although the size of the motor has been scaled down, engineers need to make it even smaller to fit into the Fontan circulation architecture. Further development would help scale the motor to the required diameter, around the size of a coin.