Soft Robot Wraps Failing Hearts
Engineering360 News Desk | February 02, 2017
A new customizable robotic heart sleeve has demonstrated potential when it comes to aiding the beating of a failing heart.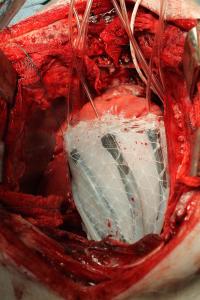 The customizable soft robot fits around a heart and helps it beat. Credit: Ellen Roche/Harvard University
Harvard University and Boston Children's Hospital researchers have so far tested the robotic sleeve's ability to support heart function in pigs with acute heart failure.
The soft robotic sleeve twists and compresses in synch with a beating heart, augmenting cardiovascular functions weakened by heart failure. The device may one day be able to bridge a patient to transplant or to aid in cardiac rehabilitation and recovery.
Unlike left ventricular assist devices (LVADs), the soft robot does not actually come in contact with blood, nor does it create unusual turbulence LVADs generate that is responsible for unwanted hematologic effects. There is no risk of blood clotting, or the need for those with the sleeve implanted in them to take blood thinner medications.
The device consists of a silicone exterior, which can be customized for individual patients, with pneumatic actuators on the inside. An external air pump moves air in and out of the actuators, which compress the device inward and are located where the compression would help the heart beat easier, effectively creating a heart pump.
The sleeve is attached to the heart using a combination of a suction device, sutures and a gel interface to help with friction between the device and the heart.