Video: Engineered heart valves grow with pediatric patients
S. Himmelstein | March 24, 2021
Heart valve replacement in children born with congenital heart defects requires repeated invasive surgeries to implant ever-larger devices to accommodate patient growth. This surgical burden and its attendant risk might be relieved with the development of vessel-like valve tubes capable of long-term growth.
Researchers from the University of Colorado and University of Minnesota combined tissue engineering and regenerative medicine technologies to synthesize the growing heart valves. The devices were observed to be capable of growth when implanted in young lambs for a year and also showed reduced calcification and improved blood flow function compared to animal-derived valves currently used when tested in the same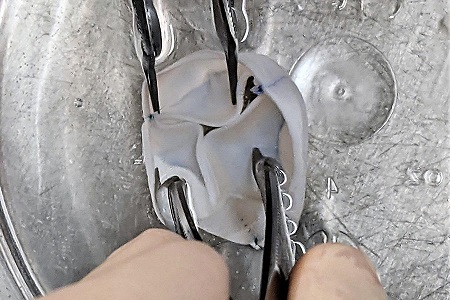 Tri-tube valves worked better than current animal-derived valves with almost none of the calcification or blood clotting affecting other valves. Source: Syedain et al., Tranquillo Lab, University of Minnesotagrowing lamb.
Vessel-like tubes were grown in the lab from a post-natal sheep donor's skin cells combined with fibrin and maintained in a bioreactor. A cell-free collagenous matrix remains after the donor cells are removed with special detergents, revealing a biomaterial that does not cause an immune reaction when implanted and obviates the need to customize device growth using a recipient's cells prior to implantation. Three of the 16 mm diameter tubes are assembled together to form a closed ring and trimmed to replicate the leaflet structures of a heart valve.
Following the successful device demonstration in the growing lamb model, the researchers plan to implant the tri-tube valve directly into the right ventricle of the heart to emulate the most common surgical repair. Approval from the U.S. Food and Drug Administration for human clinical trials will be sought over the next few years.
The research is published in Science Translational Medicine.