Laser Cutting Acrylic Displays
Sponsored Video | November 02, 2017
Sponsored Content
As laser engraving and cutting systems become more accessible and affordable, more and more industries are finding unique ways to utilize this exciting technology. Laser cut acrylic/plastic signage and display creations are fast becoming a popular application for Epilog systems.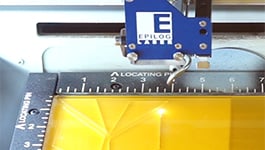 Source: Epilog Laser Corp.
Plastics come in a variety of colors and thicknesses. They can be colorful and extremely durable, which makes them ideal for a variety of applications including indoor/outdoor signage, point-of-purchase displays, cutting prototypes and much more!
As laser systems become more prevalent, industry manufacturers are creating more and more "laser friendly" materials designed specifically for cutting/engraving systems. While many plastic applications revolve around cutting, there are several plastic materials that engrave wonderfully as well. White-core plastics are ideal for engraving custom directional signage such as room numbers, restroom signs, lounge signs, etc.
Whether you are marking plastics with logos, barcodes, or other graphics, or cutting plastics for signage projects or other displays, Epilog's powerful and user-friendly systems work exceptionally well with this substrate.