Sensor-Tipped Microneedles Sip Interstitial Fluid
S. Himmelstein | October 05, 2017
A painless procedure for sampling interstitial fluid near the surface of the skin is under development by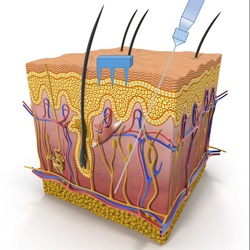 Tiny microneedles sip fluid in the middle layer of skin between the layer of dead skin cells and above where veins and nerves reside. The devices are far less painful than traditional hypodermic needles. (Credit: U.S. Sandia National Laboratories)researchers from U.S. Sandia National Laboratories and University of New Mexico.
Continual sampling of important biomarkers in this interstitial fluid could help monitor and diagnose many diseases and disorders. These markers include electrolytes, glucose and lactose. Microneedle patches offer a minimally invasive tool for extracting this fluid, and can be equipped with sensors for uses as diverse as athletic performance monitoring to tracking physiological status on the battlefield. Investigations are underway to optimize microneedle dimensions and components. During tests with human subjects, the researchers observed that 2-millimeter long microneedles extracted more interstitial fluid than the 1.5- or 1-millimeter long needles.
Each microneedle on the patch feeds into a tiny tube where interstitial fluid is collected. Within thirty minutes, about 2 microliters of interstitial fluid can be gathered within these tubes and transferred into laboratory machines for further testing.
For many applications the researchers envision, biomarker sensors would be on the very tip of the microneedle to allow continual detection of the conditions inside the body. Future studies will use larger needle arrays to increase sample volume. For other applications, such as early cancer detection, collecting the interstitial fluid may take longer than a standard blood draw, but could provide different clues.
The researchers recently announced interest in business partners to help integrate the microneedle sensors into a self-contained device. The ultimate goal of commercialization or a partnership with industry would be to get technology to the market in a way that benefits the public.