Microneedles May Make Drug Monitoring Painless
Engineering360 News Desk | August 02, 2016
A microneedle drug monitoring system pressed against a patient's arm could one day replace costly, invasive blood draws and improve patient comfort. The small, thin patch developed by researchers from University of British Columbia (UBC), Canada, and the Paul Scherrer Institut (PSI), Switzerland, measures drugs in the bloodstream without drawing blood.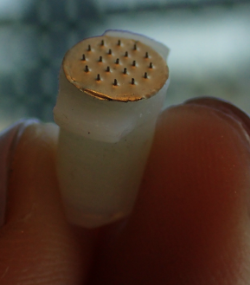 A microneedle patch determines antibiotic levels in the bloodstream, without drawing blood. Image Credit: Sahan RanamukhaarachchiMicroneedle patches are designed to puncture only the outer layer of skin. They already have been developed to deliver drugs and vaccines, but not for sampling interstitial fluids. The device monitors the antibiotic vancomycin, used to treat serious infections and administered through an intravenous line. Patients taking the antibiotic undergo three to four blood draws each day and need to be monitored because vancomycin can cause life-threatening side-effects.
Less than a millionth of a milliliter of fluid is collected from just below the outer layer of skin, after which an optofluidic device integrated within the microneedle quantifies drug concentrations.
"This is probably one of the smallest probe volumes ever recorded for a medically relevant analysis," says Urs Hafeli, associate professor in UBC's faculty of pharmaceutical sciences.