Plasmonic microneedle patch promises painless diagnostics
S. Himmelstein | August 22, 2019
A microneedle patch was engineered by researchers from Georgia Institute of Technology and Washington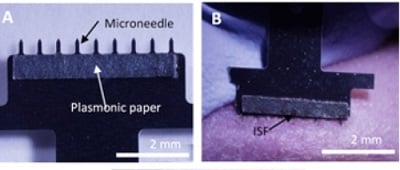 On the left, a close-up view of the skin patch shows nine tiny needles that collect interstitial fluid (ISF), which is attracted to the special paper on the patch. On the right, a microneedle patch is inserted into a rat's skin to produce microscopic holes for ISF to flow through. Source: American Chemical Society, 2019University in St. Louis for the painless collection of dermal interstitial fluid. What differentiates this device from previous microneedle designs is the use of surface-enhanced Raman scattering (SERS) for on-patch biomarker analysis.
The patch is backed with plasmonic paper embedded with gold nanorods coated with a negatively charged polymer that would attract a model analyte, a positively charged dye simulating a biomarker of interest. The devices were applied to rats after dye injection, followed by evaluation of the plasmonic paper by SERS, which identifies molecules in terms of light scattering patterns. The analytical sensitivity of the method was demonstrated to be comparable to that of more conventional multi-step protocols.
Continued refinement of the plasmonic patch is expected to streamline diagnostic testing for a range of biomarkers.