Watch: Paper microneedle patch provides painless glucose monitoring
S. Himmelstein | September 18, 2020
A paper-based microneedle patch was designed at the University of Tokyo to offer diabetics a painless means to monitor blood glucose levels.
The biodegradable device is a microneedle array with height of approximately 840 μm prepared on paper. The needles pierce the top layer of skin and draw in interstitial fluid for analysis. As the biomarker levels in the fluid typically correspond to those in the bloodstream, the microneedle patches might be substituted for the more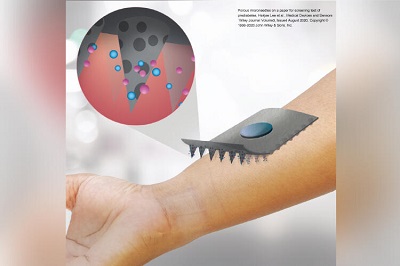 A microneedle patch was combined with a paper sensor to painlessly monitor blood glucose levels. Source: University of Tokyofamiliar and painful hypodermic needles used to draw blood.
A mixture of melted biodegradable polymer and salt was poured into a mold with cone-shaped cavities. The mold was then flipped over needle-side-up onto a piece of paper. Application of pressure and heat induced the biodegradable polymer to penetrate the paper substrate. The microneedle array was then cooled in a solution to remove the salt, leaving porous microneedles which draw in fluid by capillary action. A paper-based glucose sensor is then affixed to the substrate with double-sided tape.
When tested with an agarose gel containing dissolved glucose, the pores in the needles successfully drew in fluid which travelled up through the base paper and into the glucose-sensing material. A color change in the sensor layer signaled the amount of glucose present in the gel.
The researchers hope to extend the technology with paper sensitive to different biomarkers.to test for other conditions.