University Team Unfolds Space Tug Design
Engineering360 News Desk | April 02, 2017
A team of students from Tulane University, New Orleans, LA, took first place in NASA's second annual Breakthrough, Innovative and Game-changing (BIG) Idea Challenge for in-space assembly of spacecraft.
The engineering design competition engages the university community in driving innovation and developing unique solutions to NASA technology focus areas. This year, university teams were asked to come up with concepts for constructing a solar electric propulsion (SEP)-powered space tug using autonomous robotic assembly. The tug would need to transfer payloads from low-Earth orbit to a lunar orbit.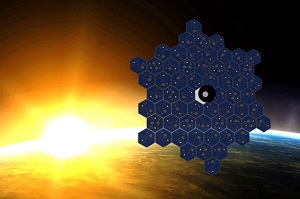 Stackable hexagon-shaped modules unfold like origami from a rocket bay at low-Earth orbit. Credit: NASA
The students, representing biomedical engineering, engineering physics, economics and other disciplines, submitted a design concept that utilizes hexagonal modules with distributed power and propulsion and a hybrid deployment/assembly approach to create SEP vehicles scalable from 200kW to 500kW (see video).
The Sunflower stackable modules unfold like origami from a rocket bay at low-Earth orbit. The identical pieces connect together via magnetic locks to assemble themselves into a large array of solar powered ion engines that can ferry cargo into orbit around the moon.
The team will be offered NASA internships with the Game Changing Development Program team at NASA for the summer of 2017. During the internship, they will work closely with NASA engineers to advance portions of their solar electric propulsion concepts that have the potential to provide high-impact capabilities in crewed space missions.