Cochlear Implants by Surgical Robot
March 17, 2017
A precise approach for robotic middle ear access to facilitate cochlear implantation has been developed by surgeons and engineers from Inselspital, Bern University Hospital, and the ARTORG Center for Biomedical Engineering Research, University of Bern (Switzerland).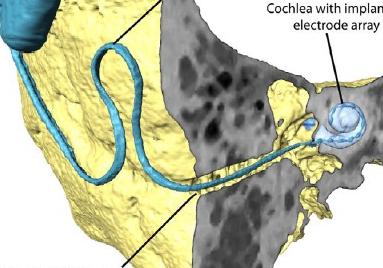 Robotic drill trajectory across the mastoid bone.
Conventional manual implantation of cochlear electrode arrays can result in exacerbated hearing loss and damaged facial nerves. A stereotactically guided robotic solution was investigated to enhance procedural precision and improve patient outcomes.
The approach consisted of computer-assisted planning, subsequent robotic access to the middle ear followed by manual inner ear access, and electrode insertion through the access created.
Use of surgical planning software and a robotic drill process enabled access to the cochlea through a minimally-invasive keyhole tunnel of approximately 2.5 mm in diameter in a straight line from behind the ear. Since the robot carries out the drilling procedure without the need for direct, manual operation by the surgeon, engineers were challenged to design safety system that could track and control robotic drilling activity beyond the capabilities of the human surgeon, meaning without direct visual control.
Safety components include high-accuracy, optical tracking system sensors, and a sensor for resistance that can "feel" the texture of bone while drilling. A radar-like nerve stimulation probe sends small electric pulses into the bone from which the robot can compute whether or not it is on desired track. This instrument information tells the surgeon where the robot is at any given moment and controls safe drilling.
Results of a clinical trial on the feasibility of the robotic approach with a first patient in summer 2016 appear promising.