Video: Implant aids patients with inner ear disorder
S. Himmelstein | February 25, 2021
An implanted device is showing promise in patients with bilateral vestibular hypofunction (BVH), a debilitating condition linked to loss of the inner ears' sense of balance.
The implant developed by researchers from The Johns Hopkins University and Labyrinth Devices LLC has been demonstrated to facilitate walking, relieve dizziness and improve quality of life in patients with BVH. The surgically implanted stimulator electrically bypasses malfunctioning areas of the inner ear and partially restores the sensation of balance.
The vestibular implant is a modified cochlear implant originally designed to improve hearing loss by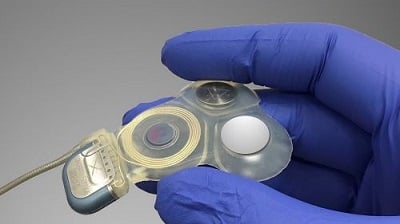 The implant electrically bypasses malfunctioning areas of the inner ear. Source: Johns Hopkins Vestibular NeuroEngineering Laboratoryelectrically stimulating the inner ear's cochlear nerve. The device was re-engineered to instead activate the nearby vestibular nerve in response to signals from a motion sensor on the patient's head. Electrical pulse strength and timing convey information about the speed and direction of the patient's head motion which, in turn, drives head and eye reflexes that help maintain clearer vision during head movement and reduce the need to exert conscious effort to avoid falls.
Changes in postural stability, walking, hearing and patient-reported outcomes were evaluated in eight BVH patients who received the implant. Assessments were conducted before implantation surgery and at six months and one year afterward. Median scores improved for the group at six months and one year after implantation on four of the five posture and gait metrics, and on three of the four patient-reported outcomes. While all patients reported some hearing loss in the implanted ear, five maintained hearing in the implanted ear sufficient to use a telephone without a hearing aid.
A paper on the study is published in The New England Journal of Medicine.