Hydrogen-Powered Ferry a Feasibility
John Simpson | October 12, 2016
It is feasible to build and operate a high-speed passenger ferry solely powered by hydrogen fuel cells, a study by Sandia National Laboratories researchers has found—although initial costs would likely exceed those of a comparable diesel ferry.
The feasibility study led by Sandia—which also included the American Bureau of Shipping, the U.S. Coast Guard, naval architect Elliott Bay Design Group and the Port of San Francisco, among others—determined that a large, fast vessel could be built that would meet maritime regulations. To study the issue, the group drew up conceptual specifications: a 150-passenger commuter ferry that would travel four 50-mile round-trip routes each day at a top speed of 35 knots about 60% of the time. The ferry could refuel at midday, between the morning and afternoon commutes.
"This kind of boat has never been built before," says mechanical engineer Curt Leffers, project manager for Elliott Bay Design Group. "Hydrogen fuel cells are heavier than diesel engines for a given power output, so achieving the right power-to-weight ratio for the vessel was tricky."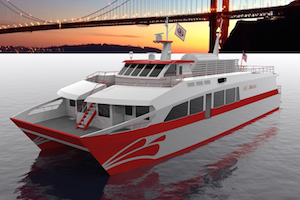 An artistic rendering of the hydrogen-powered high-speed passenger ferry. Image credit: Sandia National Laboratories.
The need for speed drove the design in the direction of a slightly elongated catamaran. The engineers were able to save weight by consolidating the support equipment for the fuel cells.
To achieve the necessary safety standoffs from the fuel cells, the designers placed the fuel cells on the main deck of the vessel in a separate compartment. Leffers says that this provides physical separation between the fuel cells and passengers.
ABS issued a conditional "approval in principal" to verify that the conceptual design would be compliant with applicable rules and regulations and to identify any potential gaps in compliance. Combining their assessment with feedback from the U.S. Coast Guard, Sandia found no regulatory roadblocks and concluded that the vessel would be acceptable from a regulatory perspective once a more detailed ready-to-build design is generated.
The team determined that the hydrogen ferry would cost about twice as much as a comparable diesel ferry at today's prices, with much of the premium cost resulting from the fuel cell system. However, Sandia notes, automakers have successfully brought fuel cell electric vehicles to market despite their being more expensive than comparable internal combustion engine vehicles.
The next step is to optimize the vessel design. Working with San Francisco tour boat operator Red and White Fleet and other stakeholders, Sandia researchers Joe Pratt and Lennie Klebanoff are now undertaking an optimization study to examine the tradeoffs among speed, costs and emissions, as well as other factors.