Zero-emission ferry to debut this fall in San Francisco
Marie Donlon | June 14, 2019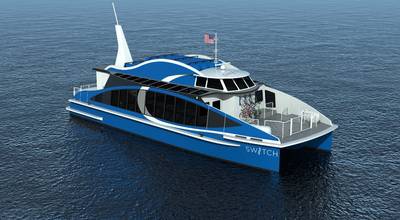 Source: SW/TCH MaritimeA partnership between SW/TCH Maritime and Golden Gate Zero Emission Marine will expedite the launch of the first zero-emission, hydrogen fuel cell ferry, according to reports.
The 84-passenger ferry, dubbed the "Water Go Round," which is currently under construction at the Bay Ship & Yacht shipyard in Alameda, California, will begin transporting commuters across San Francisco Bay once construction is completed in September and the ferry undergoes a three-month-long proof of concept trial in the fall. With private funding from SW/TCH and a $3 million grant from the California Air Resources Board (CARB), the ferry is expected to offer commuters a clean transportation solution to traffic in the Bay area.
The so-called e-ferry will rely on all-electric propulsion powered either by batteries charged with shore power or hydrogen fuel cells, bypassing the need to burn carbon-intensive fossil fuels. Because such a zero-emission scheme is only possible with considerable investment in new fueling infrastructure, SW/TCH Maritime is also partnering with Clean Marine Energy (CME) to build onshore electric charging and hydrogen fueling infrastructure.
"San Francisco is one of many growing port cities in the U.S. that is struggling to accommodate intensifying strain on legacy commuting systems, but has untapped potential to better use its waterways," said Pace Ralli, co-founder of SW/TCH.
The Water Go Round is expected to be the flagship of a fleet of zero-emission ferries operating all over the U.S. It is just one segment of SW/TCH Maritime's goal of expediting the adoption of zero-emissions modes of transportation.