Mediterranean's First LNG Passenger Ferry
John Simpson | October 21, 2016
Wärtsilä has contracted with Construcciones Navales del Norte SL (LaNaval) shipyard in Sestao, Spain, for the design and supply of the liquefied natural gas (LNG) power and propulsion system for a new roll-on/roll-off (ro-ro) passenger ferry. The ship is being built for ferry operator Baleària, which services Spain's Balearic Islands.
According to Wärtsilä, when the ferry enters regular service, which is scheduled for 2019, it will be the first gas-propelled ro-ro passenger ferry operating in the Mediterranean Sea and among the largest ferries in Europe. The vessel will be 232 meters in length, with capacity for 331 vehicles and 1,700 passengers, 70% of whom can be accommodated in cabins. Because of the ship's extensive accommodation facilities and the need for passenger comfort, the company says it will apply stringent standards to reduce noise and vibration to the main and auxiliary engines, propellers and maneuvering thrusters.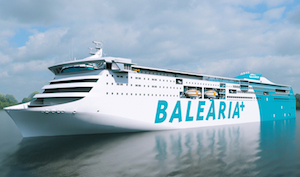 The LNG-powered vessel will be 232 meters in length, with capacity for 331 vehicles and 1,700 passengers. Image credit: Wärtsilä.
In comparison to standard marine diesel fuel, Wärtsilä says the LNG solution will reduce CO2 emissions by 25%, nitrogen oxide emissions by 85% and sulfur and particulate matter almost entirely. The output power from the LNG engines will allow the ship to reach a speed of 24 knots, according to Guillermo Alomar, Baleària's fleet director.
The full Wärtsilä scope of supply for the contract includes four 8-cylinder 50DF dual-fuel main engines, four 9-cylinder 20DF dual-fuel auxiliary engines, an LNGPac fuel storage and management system, two twin/single out gearboxes, two controllable pitch propellers with bridge control system, two transverse thrusters, plus engineering, project management and onsite yard support services. The equipment is scheduled to be delivered to the yard in mid-2017.
Wärtsilä says it has an option with LaNaval to supply the LNG power and propulsion system for a second LNG vessel.