Waterless Toilet Could Benefit Developing Countries
Engineering360 News Desk | January 27, 2016
A team from Cranfield University in the UK has developed a toilet that treats human waste in the home without external energy or water. The device marks a potentially significant advance for those in developing countries who suffer from diseases related to improper sanitation and sewage treatment.
Designed for single-household use, the Nano Membrane Toilet's flushing system uses a rotating mechanism to transport waste from the toilet into a holding chamber beneath without using water, while blocking odor and the user's view of the waste. The toilet is powered using a modular hand crank or bicycle power generator.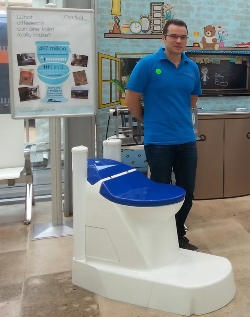 The Nano Membrane Toilet treats human waste in the home without external energy or water. Image credit: Cranfield University. Solids separation is accomplished through sedimentation. Loosely bound water (mostly from urine) is separated using low-glass-transition-temperature hollow-fiber membranes. A nanostructured membrane wall facilitates water transport in the vapor state rather than as a liquid. This yields high rejection of pathogens and odorous volatile compounds.
A nano-coated bead enables water vapor recovery by encouraging the formation of water droplets at the nanobead surface. Once the droplets form a critical size, the water drains into a collection vessel for reuse at the household level in washing or irrigation applications.
Following release of the unbound water, the residual solids are transported by a mechanical screw that drops them into a coating chamber lined with a replaceable bag. Once inside the coating chamber, the solids are periodically coated with a biodegradable nano-polymer, which serves to block odor and acts as a barrier to pathogen transport. The bag is periodically collected for transport to a locally sited small-scale gasifier sized to accommodate around 40 toilets.
The toilet was developed as part of the global "Reinvent the Toilet Challenge" by the Bill and Melinda Gates Foundation, which provided $800,000 in funding for the project. The Cranfield University team is looking for private investment ahead of a planned technology test in West Africa later in 2016.