Automated toilet cleaning system to take on convenience stores
Marie Donlon | November 03, 2022
A robotic system that automates the cleaning of public restrooms — specifically those in convenience stores — has been developed by researchers at Tokyo Metropolitan University.
According to its developers, the system features a toilet bowl top surface cleaning mechanism, a toilet bowl lifting mechanism and a restroom floor cleaning robot.
The system automatically lifts the toilet bowl while the floor cleaning mechanism stored behind the bowl is activated, moving in front of the toilet. Meanwhile, a cleaning tool featuring water-absorbing sheets wipes the floor and sides of the toilet bowl and simultaneously collects garbage on the floor while a device built into the back of the toilet seat autonomously cleans the toilet bowl rim.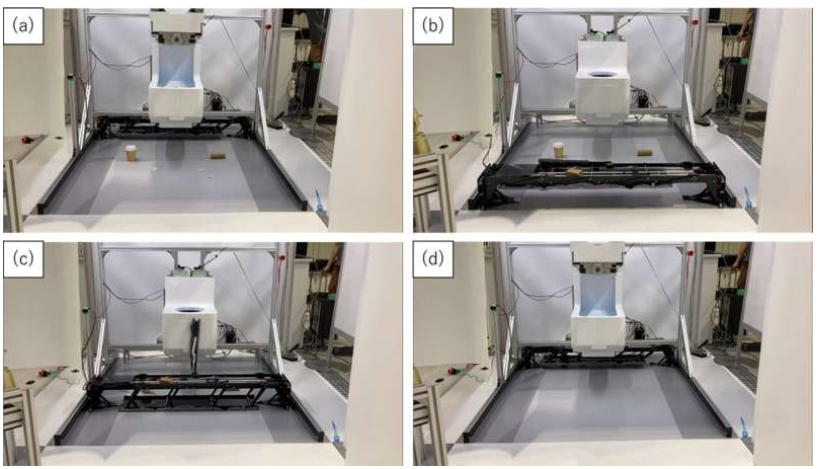 How the system actually works: (a) Initial state (b) Automatic cleaning toilet bowl cleans over the rim. The floor cleaning robot moves to the front of the toilet space. (c) The floor cleaning robot collects urine and debris scattered on the floor while also cleaning the sides of the toilet bowl. (d) Cleaning is complete. Source: Tezuka et al.
The team tested the system, having it clean fake urine and garbage, and determined that it performed well, completing cleaning tasks in about 17 seconds and removing almost 98% of the fake urine.
The researchers believe that the system could alleviate the burden on convenience store workers while also improving the hygiene of public spaces.
The study, Development of a restroom cleaning system for convenience stores, appears in the journal Advanced Robotics.
More information on the system is available in the accompanying video that appears courtesy of Tokyo Metropolitan University.