Researchers engineer a quieter airplane toilet
David Wagman | April 04, 2019
A group of physicists from Brigham Young University said they have figured out how to make airplane toilets quieter.
The researchers invented a vacuum-assisted toilet that is about half as loud as a typical airplane commode.
They said the problem was a challenging one to solve in part because getting airplane toilets to flush with little water requires a partial vacuum. At 38,000 feet, that partial vacuum pulls air at nearly half the speed of sound. As a result, any disturbance to the flow — like the bend of a pipe or a valve — can generate significant noise.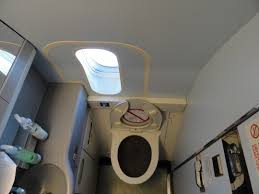 First-class lavatory, Air Canada Boeing 777-200LR. Source: kristoferb/CC BY-SA 3.0To solve the problem, the BYU team focused on three valve conditions during the flush cycle: the initial noise level peak associated with the flush valve opening, an intermediate noise level plateau associated with the valve being fully opened and the final noise level peak associated with the flush valve closing.
The researchers added piping to increase the distance between the toilet bowl and the flush valve and made the pipe attachment at the bowl more of a gradual bend as opposed to a 90-degree angle. Tests show aeroacoustically generated noise dropped up to 16 decibels during the flush valve opening and about 5 to 10 decibels when the valve was fully opened.
The BYU invention works with existing airplane toilets, the researchers said. Only the elbow needs to be removed during a retrofit, while the valve and the bowl stay where they are.
The vacuum-assisted tech could also be used for toilets on cruise ships and trains and even in some new green building projects where housing units are looking for ways to reduce water usage.