It might seem peculiar, but consider this article an ode to the porta-potty, or more aptly called a chemical toilet.
A marine chemical toilet. Most people get acquainted with their first chemical toilet at a festival or campgrounds, where the commodes are too often overused and under-maintained, and the user tries to quickly conduct their business while touching as few surfaces as possible. And from that point on the chemical toilet becomes an option of last resort.
Fortunately, the vast majority of chemical toilets are a better user experience, despite the technology remaining largely the same. That's because modern engineering and convenience has provided [most of the world, anyway] ample options for when nature calls…but you're stuck in nature!
Applications
Chemical toilets are quite ubiquitous; the most identifiable configuration is as the porta-potty. These devices typically resemble plastic outhouses or latrines, with the main difference being all human waste is stored in an integrated, contained holding tank. It is not connected to a sewage line, septic tank or latrine pit. This makes them perfect as temporary restroom solutions for locations with restroom or sewage facilities inadequate for swells in population. Prime examples include festivals, concerts and job sites.
Portable toilet stalls often accommodate handicapped users and may also include a changing table for infants. Multiple chemical toilets with a shared holding tank are sometimes built on trailers, which makes it easier to relocate and service the commodes. Another variant is the outdoor urinal, which offers easy access for patrons, but is little more than a mobile platform with angled walls and a chemical gutter. Some cities and towns require permission before a chemical toilet can be placed, as some residents may consider them unsightly or have sanitary concerns. Chemical toilets may also be vinyl wrapped or painted for advertising purposes at events.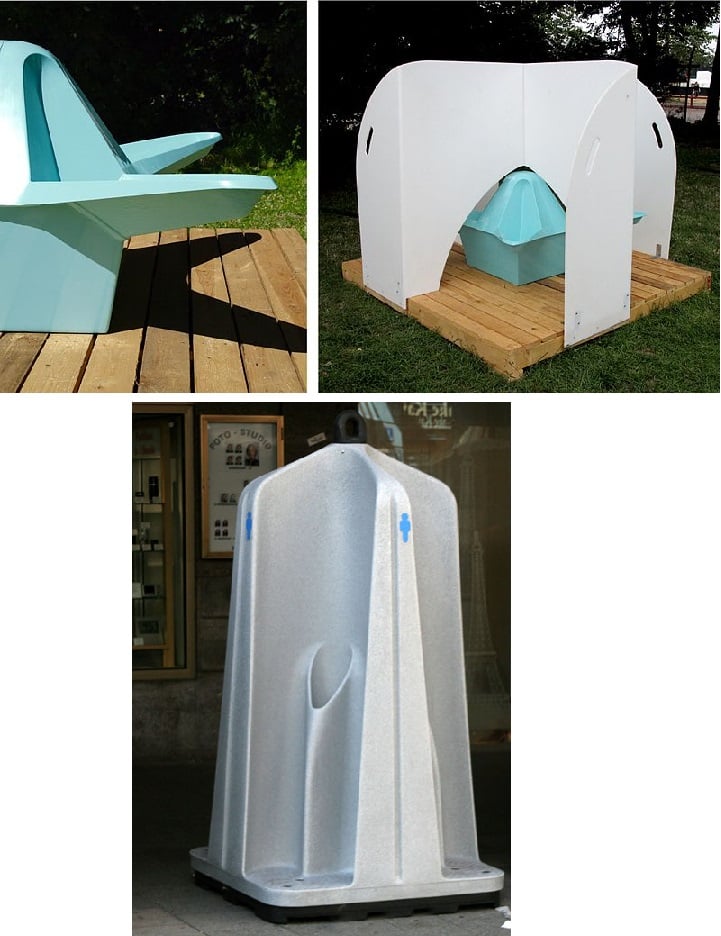 Portable outdoor urinal examples: female top, male bottom. Source: UiWEPublications & Horemu / CC BY-SA 3.0 Chemical toilets are also the ideal human waste deposit mechanism for vehicles, which obviously cannot have traditional plumbing. Recreational vehicles, motorcoaches and even sleeper vans can have dedicated chemical toilet facilities for passengers. Vessels are also likely locations for chemical toilets (or "heads") as dumping sewage overboard is illegal within all inland and most littoral areas. Some vessels may be permitted to pump sewage overboard once out to sea, however.
Chemical toilets are also common on airplanes and trains, although modern examples of both have largely usurped chemical toilets in favor of vacuum toilets.
Operation
The goal of chemical toilets is to provide a sanitary answer for personal relief in areas where a traditional toilet is unavailable. Open sewage sources are a serious threat to public health; a threat that persists in many impoverished third world communities.
Chemical toilets are a more sanitary solution than open defecation and urination, as waste is collected and periodically removed. Well-maintained chemical toilets also typically do not smell like excreta, as the toilet reservoir contains chemicals that contribute to deodorization, along with ventilation louvers. These chemicals are often based on formaldehyde, glutaraldehyde, bromine or quaternary ammonium compounds. Chemicals may be diluted with water if supplied as a concentrate. Due to environmental concerns, some manufacturers and legislation require greener solutions, such as enzyme-based fluids. Typically these fluids are blue in color, but will turn green to indicate that the chemical formula has reached its deodorizing or sanitizing service life.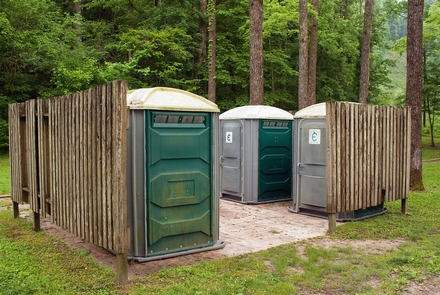 A sitting of portable toilets.
From the user perspective, his or her responsibility changes depending on the chemical toilet design. Most do not require the user to flush; some do however, and others require him or her to pump the toilet before or after use.
Amenities
Manufacturers have taken notice of many people's aversion to using chemical toilet stalls. This has prompted redesigns to improve the comfortability of portable toilet stalls. Innovations include better ventilation and fragrance emitters, more ceramic and composite materials, running water and hand drying stations or hand sanitizer. These are often marketed as luxury or deluxe models.
Maintenance
Regular and thorough maintenance of a chemical toilet is essential for successful implementation. Allowing the chemical holding tank to become overfilled or the stall's condition to become unsanitary will deter patronization and is also unhealthy.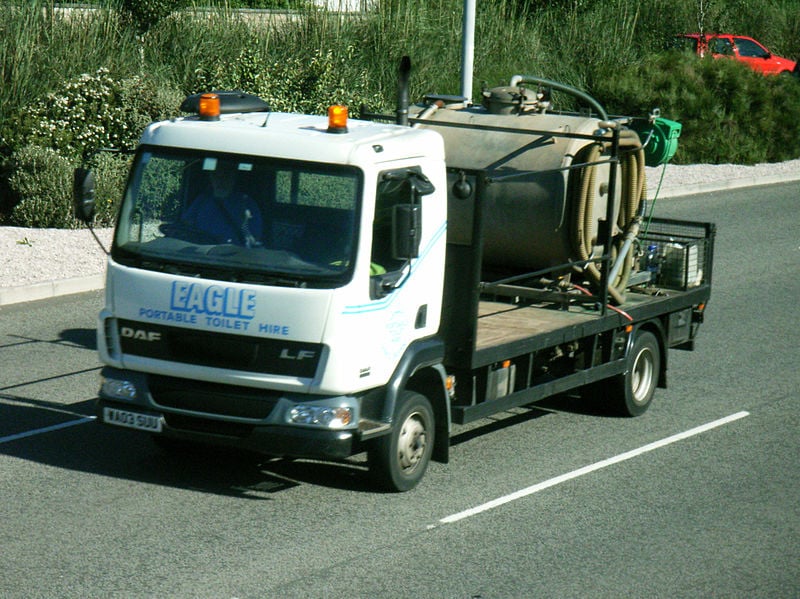 A portable toilet service truck. Source: Graham Richardson / CC BY 2.0
Chemical toilets need to be regularly serviced by pumping waste from the reservoir and replenishing sanitizing chemicals. Portable toilets are typically visited by service trucks designed to accomplish both tasks. It may also be appropriate to replace a portable toilet for repair or a thorough cleaning at the main service facility. Trucks will deposit waste into the sewer system or at a treatment facility.
Chemical toilets located on vehicles need to visit a facility with a pumpout station. Pumpouts enable users to empty chemical toilet holding tanks. RVs can usually find pumpouts in campgrounds and at service facilities, while bus service facilities typically empty chemical waste holds as part of bus cleaning. Vessels need to visit a marina or marine service facility, unless they are permitted to pump out waste and chemicals at sea.
Finally, periodical cleaning of chemical toilet facilities is basic hygiene, as with any restroom.
---
Chemical toilets offer a safe, healthy alternative for personal relief in a variety of situations where traditional plumbing facilities are improbable. It's not a stretch to say that chemical toilets tend to be many individuals' option of last resort, but chemical toilet quality is improving and they fill a vital need.