Sulzer launches next generation high efficiency, low total cost pump for desalination
Diana Aoun | March 06, 2023
Global pump specialist Sulzer has extended its high-performance product offering for the desalination sector with the new MSN-reverse osmosis (RO) high-pressure pump range. The latest innovation from Sulzer combines proven features from existing designs with a range of enhancements to optimize both capital and operating costs.
In the growing desalination industry, pumps represent a critical equipment category, making up a significant part of a facility's capital investment. In addition, energy consumption of pumps accounts for around 60% to 70% of the final cost of the water produced, and rising global energy prices are putting pump efficiency into even sharper focus.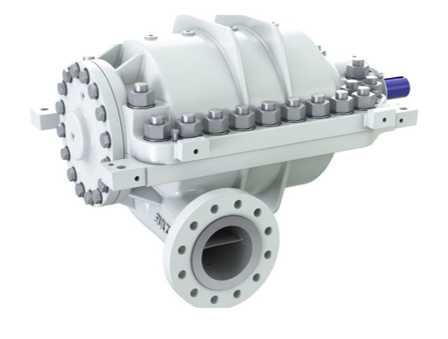 Source: Sulzer
With all of these factors in mind, the MSN-RO high-efficiency pump has been designed for modern, large-scale desalination applications with large, independent RO trains with capacities up to 35,000 m3/d (6,420 US gpm). Based on existing Sulzer designs that have a proven track record in the sector, this multistage axial split casing pump incorporates several significant enhancements. The MSN-RO is designed to improve operating efficiency while reducing capital costs.
The diffuser and discharge volute feature new high-efficiency designs, optimized through extensive computational fluid dynamics analysis. The pump's renewable stationary wear parts manufactured from polyetheretherketone (PEEK) engineering polymer, with minimal clearances for superior efficiency.
The water lubricated primary bearings of the MSN-RO are also made from PEEK. By removing the requirement for forced oil lubrication and cooling system, pump operation and maintenance is significantly simplified, while also eliminating the potential risk of lubricants contaminating process water.
Sulzer's new MSN-RO pump range offers highly configurable, modular designs, with tailored solutions for the end-to-end pump requirements associated with desalination applications.