Sulzer's CPE centrifugal pump achieves drinking water certification and smashes energy efficiency ratings
Diana Aoun | January 27, 2021
Sulzer's energy-efficient CPE (single-stage) centrifugal pump range, which launched nearly two years ago, has recently been granted NSF61 and NSF372 drinking water certification. The CPE pump range now conforms to the most stringent standards applied to drinking water applications and offers the highest available efficiency on the global market.
One of the most notable features of the CPE is its unparalleled energy efficiency. The pump's energy efficiency rating greatly exceeds the requirements of the U.S. Department of Energy (DOE), resulting in impressive long-term energy savings for customers. Furthermore, the CPE pump range promises low operational costs due to trouble-free Sulzer seals, rigid bearings and minimized service requirements. Maintenance costs are also minimized due to easy installation and innovative design as well as high interchangeability of parts.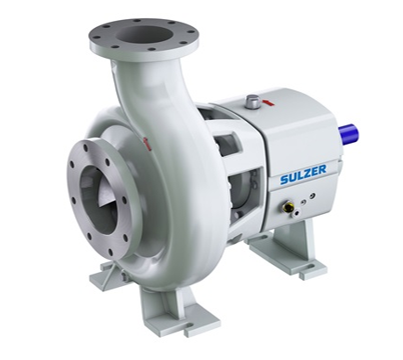 Source: Sulzer
The CPE pump is designed to meet the process requirements for a range of industrial applications, including clean or slightly contaminated liquids, viscous liquids and fibrous slurries. Having successfully achieved NSF drinking water certification, CPE process pumps can now be used in water treatment, water supply and distribution as well as desalination applications.
Other notable design features of the CPE pump range include:
Optimized shaft seal life as a result of improved sealing chambers and balancing holes.
Trouble-free shaft sealing with Sulzer's uniquely designed mechanical seals that result in a reduced risk of unplanned shutdowns.
Heavy-duty rigid bearing units that ensure long bearing life, leakage-free construction and provide additional protection against unexpected shutdowns.
Optimal impeller mounting for reliable operation as well as quick and easy assembly and dismantling.
The CPE pump range can deliver flow rates up to 1,650 m³/h (7,000 US gpm), a maximum head up to 275 m (900 ft) and can operate at temperatures up to 260° C (500° F). A large selection of construction materials is offered based on specific applications including various stainless steel and cast-iron alloys.