Process Pump Headed to Pulp and Bio-Product Mill
Engineering360 News Desk | February 22, 2016
A bio-product wood-processing mill, under construction by Metsä Group in Äänekoski, Finland, will be the home of a process-pump package from Sulzer. Sulzer will deliver its Ahlstar process pumps, MCE medium-consistency pumps, and agitators and vacuum pumps. The project is scheduled for completion during the third quarter of 2017.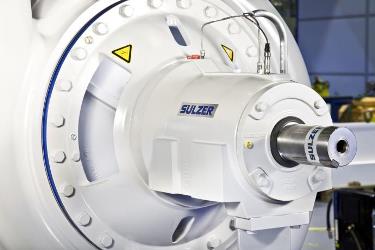 The project is scheduled for completion during the third quarter of 2017. Source: Sulzer.Metsä Fibre expects to invest EUR 1.2 billion ($1.32 billion) to construct the new mill, one of the largest investments ever made in Finland's wood-processing industry. Annual mill capacity will be 1.3 million tons of pulp production--800,000 tons of softwood pulp and 500,000 tons of hardwood pulp. The mill also will produce bio products such as tall oil, turpentine, lignin products, bioelectricity and wood fuel.
Sulzer Ahlstar process pumps are end suction single-stage centrifugal pumps to move viscous liquids and fibrous slurries, and large solids containing liquids. The MCE pumps, also centrifugal models, are used for medium-consistency fibrous slurry applications up to 18 percent consistency, and slurries containing large solids.
Pump applications in pulp processing include cooking, washing, screening, oxygen delignification and bleaching. Pumps also are used for pulp drying, chemical recovery and refining and grinding.
The new mill will increase the consumption of pulpwood in Finland by approximately 4 million cubic meters per year, according to Metsa, or approximately 10 percent. It will use a total of 6.5 million cubic meters of wood raw material annually, which will mainly be sourced from Finland. Sweco Industry Oy and Sweco Rakennetekniikka Oy are overseeing the engineering of the mill, and Valmet Oy and Andritz Oy is managing the main equipment.
The mill will employ approximately 200 people, the company says, and some 70 percent of its main equipment will be of Finnish origin. Key design criteria include minimized emissions, low specific water consumption, and high energy and material efficiency. The wood raw material used by the mill and all side streams will be fully utilized as products and bioenergy and contribute to achieving renewable energy targets in Finland.
The mill's design maximizes the bioenergy to be sold and increases the share of renewable energy in Finland by around two percentage points, the developers say. Further, it will not consume any fossil fuels--all of the energy needed for operation will be generated from wood. Altogether, the mill's electricity self-sufficiency rate scores 240 percent, the company says.