Gorman-Rupp's Super T Series Eradicator Plus for aggressive solids applications
Diana Aoun | October 11, 2022
Gorman-Rupp is now offering the Eradicator Plus solids reduction technology for 3 inch (75 mm), 4 inch (100 mm), and 6 inch (150 mm) Super T series self-priming centrifugal trash pumps. The Eradicator Plus technology has been designed for the most extreme-duty applications in the municipal, industrial and agricultural markets.
The Eradicator Plus is ideal when cutting and tearing of organic solids entering the pump is required. This may include liquids containing trash bags, wipes, mop heads, hair, industrial by-products and agricultural wastes.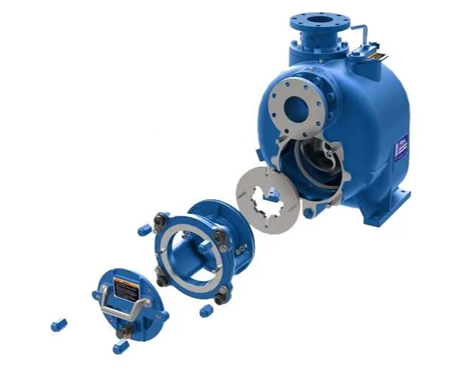 Source: Gorman-Rupp
Eradicator Plus pumps feature an easily removable lightweight inspection cover that provides quick access to the impeller during routine maintenance. An innovative back cover plate incorporating an obstruction-free flow path is also included for additional inspection access. The rugged, heavy-duty, G-R hard iron continuous vane impeller with thick back shroud prevents debris build-up, while the extra-thick G-R hard iron wear plate with notches, grooves, and oversized lacerating tooth is used to cut and shred organic solids before they enter the interior of the pump.
G-R hard iron is a durable material that provides superior performance by extending the pump life up to six times over standard cast iron or ductile iron components. G-R hard iron has a measured hardness in excess of 400 Bhn (Brinell), providing the best abrasion resistance for nearly all pumping applications.
The Eradicator Plus system is available in cast iron, G-R hard iron and 316 stainless steel configurations and can be factory-equipped in new pumps or purchased as a retrofit kit that is interchangeable with Super T series pumps currently operating in the field.