Tsurumi's new submersible explosion-proof dewatering pump series
Diana Aoun | November 23, 2021
Tsurumi has complemented its portfolio of submersible pumps with a new range of explosion-proof pumps. The KRDX-series is a submersible three-phase heavy-duty slurry pump, featuring an explosion-proof structure that is suitable for drainage/pumping operations in coal mines, oil and gas refineries and similar environments where the presence of dangerous combustible gases or vapors or flammable liquids create a potentially explosive atmosphere.
KRDX-series pumps are submersible slurry pumps equipped with agitators recognized by both IECEx and ATEX (standards/ certification for devices intended for use in explosive atmospheres). The KRDX features a high chromium cast iron impeller, suction plate and agitator that assists the smooth suction of settled material, and the ductile cast iron pump casing and motor frame ensure enhanced wear resistance. The pump is suitable for drainage of mud-water, sediment-containing water and various kinds of liquid slurry.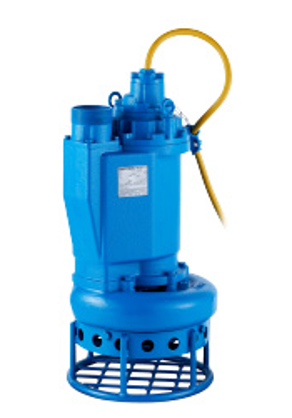 Source: Tsurumi
As with Tsurumi's other standard-specification submersible pumps the KRDX-series pumps are equipped with an anti-wicking cable, a motor protector and dual internal mechanical seals with silicon carbide faces. Depending on the model, KRDX pumps can deliver a maximum flowrate of approximately 37 L/s (580 US gpm) and a maximum head of 17 m (24.2 psi). The pumps come in discharge bore sizes of 80 mm and 100 mm (3 inch and 5 inch), with 3.7 kW, 5.5 kW or 7,5-kW motor output. The pumps can also be customized for rated voltages of 380 V to 1000 V.
Tsurumi's KRDX explosion-proof slurry pumps can deliver powerful agitation for discharging slurries loaded with silt, sand or other particulate matter and promise stable operation under harsh operating environments along with superior durability and maintainability.