Gorman-Rupp pumps updates its Super T series for enhanced waste handling
Diana Aoun | June 30, 2021
Pump manufacturer Gorman-Rupp recently updated its Super T series pumps with a new 2-inch model now available with a range of additional features for longer pump life and enhanced solids management. The classic Super T series self-priming pumps are known for their economical, trouble-free operation and superior solids-handling capabilities. The innovative design greatly reduces troublesome clogging and expensive downtime.
The Super T, 2-inch model, or simply the Super T2, now comes with external, shimless clearance adjustment, four-point back cover attachment, a two-point "webbed" plate design and a patented inspection cover. The new Super T2s are dimensionally interchangeable with the Classic T2s.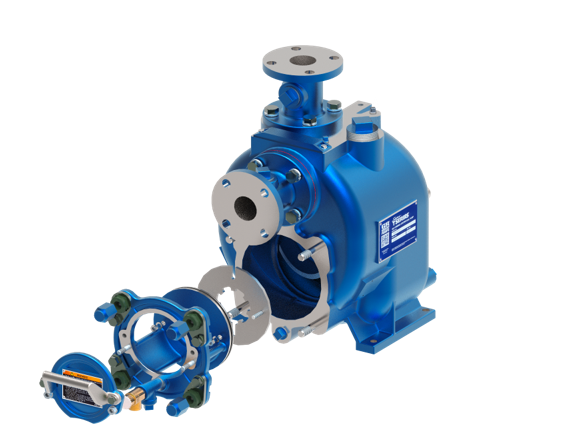 Source: Gorman-Rupp Pumps
The Super T2 comes standard with the Eradicator Solids Management System which provides maximum uptime and reduces maintenance costs. The Eradicator system features a powerful self-cleaning wear plate designed with several notches, grooves and a patent-pending lacerating tooth. This effectively breaks up stringy materials, passing them through the pump without service interruption or impacting pump performance.
The external shimless cover plate facilitates easy adjustment of the clearance between the impeller and the wear plate, eliminating the need to realign belts, couplings or other drive components. This design feature effectively doubles the life of the impeller and wear-plate while maintaining maximum operating efficiency.
The impeller, wear plate, seal, and flap valve can all be accessed through the cover plate opening for inspection or service. Because they are self-priming, Super T series pumps can be mounted above the liquid being pumped. Pump service and maintenance can be easily performed using conventional hand tools and there is no need to disconnect piping.
Gorman-Rupp offers the Eradicator system in cast iron, "G-R" hard iron (for abrasive applications), and 316 stainless steel configurations. The system can be factory-equipped in new pumps but is also available as a retrofit kit that is interchangeable with Super T series pumps currently in operation.
Super T series pumps are available in discharge sizes of DN50 to DN100 (2 inches to 10 inches) with capacities up to 214.5 liters per second (3400 GPM) and heads to 45 meters (148 feet).
The Super T series pumps are suitable for a variety of applications including solids-laden liquids and slurries across various industries including paper mills, mining, food processing, steel, automotive factories, tanneries, wineries and sewage handling.