Gorman-Rupp adds new models to SF series submersible solids-handling pumps
Diana Aoun | February 02, 2022
The Gorman-Rupp line of SF series submersible solids-handling pumps recently saw the addition of four new models. The new models feature extreme duty vortex and semi-open, two vane impeller designs to enable handling of fibrous and solid-laden pumping media. In addition, all new models are available with an explosion-proof rating, feature a NEMA premium efficiency (IEC IE3) motor, and NEMA Class H motor insulation. The new SF series pumps are designed to provide superior pumping efficiencies and have been constructed for extended service life.
The popularity of the SF series can be attributed to key design features that provide a range of benefits across the installation, operation and maintenance phases of the pump's life. The press-fit motor with Gorman-Rupp's patent-pending finned motor housing provides superior motor cooling, resulting in extended motor life. In addition, all pumps come standard with moisture detection in both the seal and motor chambers.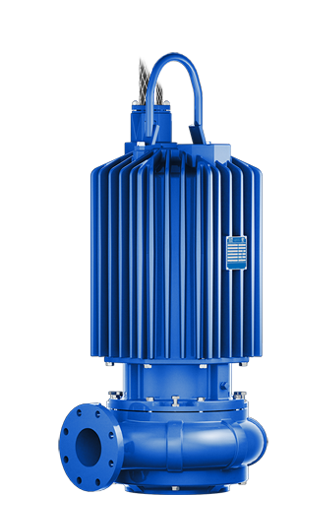 Source: Gorman-Rupp
The SF series pumps also feature terminal housing and cable connections that are designed for easy in-the-field cable replacements. For most models, the pumps come with color-coded, snap-together connections for easy in-the-field cable changes.
The channel impeller pump models are designed with externally adjustable face clearances which improves pumping efficiency without the requirement of time-consuming wear ring replacement. The vortex pump models provide exceptional pumping efficiency while maintaining a 76 mm (3 inch) spherical solids passage via the vortex impeller.
The SF series line is now available in over 40 models in 75 mm to 200 mm (3 inch to 8 inch) flanged discharge sizes and horsepower ranging from 2.5 HP to 75 HP. These combinations with multiple impeller trims can provide flows up to 215 L/s (3,400 US gpm) and heads to 52 m (170 ft).
The Gorman-Rupp SF series of submersible pumps are available in slide rail, construction/trash and dry pit versions for use in most liquid removal applications. In addition, most are available with CSA C-US approval for standard locations and FM and CSA C-US approval for hazardous locations.