Robots moving into the manufacturing space
Marie Donlon | February 28, 2022
Amid global labor shortages affecting nearly every industry, manufacturers have sought to fill positions within their manufacturing space that are oftentimes tedious, repetitive and — sometimes — dangerous.
In lieu of humans applying for such positions, manufacturers are now taking matters into their own hands to alleviate labor shortages and supply chain pressures affecting the manufacturing industry. Thanks to the sophistication of new technology, a number of robotic solutions specifically designed for the manufacturing industry have emerged, taking over tasks previously performed manually.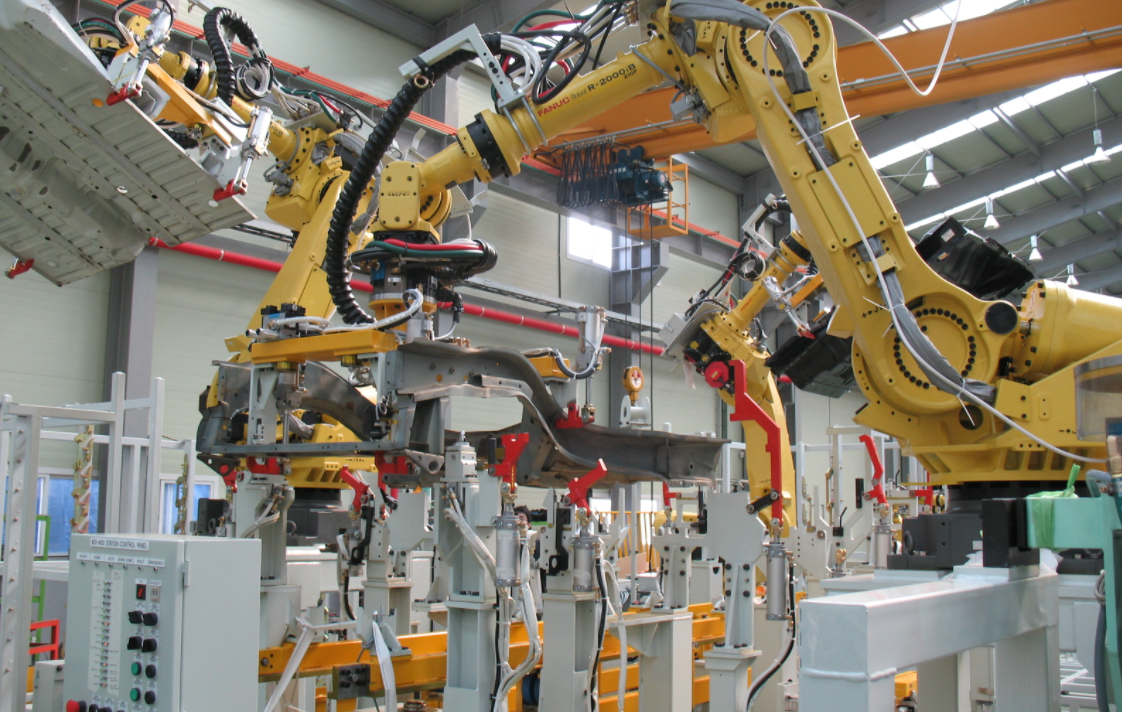 Follow along with Engineering360 to see some of the more recent examples of technology automating the manufacturing space.
Mind-reading manufacturer
An industrial robot reportedly capable of determining human intention in the manufacturing space has been developed by engineers at China Three Gorges University's Intelligent Manufacturing Innovation Technology Centre.
The industrial robot, which was tested by the researchers on a factory assembly line, monitored the brain waves of volunteers working alongside the robots and wearing non-invasive brain wave detectors. Likewise, the robots collected electrical signals from the muscles of their human co-workers via sensors.
Using the information culled from the brain waves and muscle activity and without verbal instruction from the human coworker, the robot reportedly picked up a tool and placed it on a workstation and even assembled a product.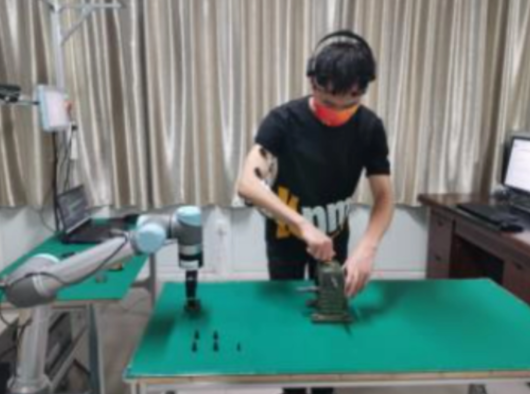 Source: Dong Yuanfa, Intelligent Manufacturing Innovation Technology Centre, China Three Gorges University
After hundreds of hours of training, the researchers reported that the industrial robot carried out its human co-worker's intentions, as determined via muscle activity and brain waves, roughly 70% of the time.
According to the researchers, such robots could potentially — after even more training — improve the pace of an assembly line.
Robots lending an…arm
Trio Motion Technology, a U.K.-based manufacturer of robots, has developed a range of Selective Compliance Assembly Robot Arms (SCARA) for electronics, manufacturing, packaging and material handling applications.
The new range of SCARA robots includes four different iterations spanning a 400 mm arm range model with a 3 kg maximum load capacity to a 700 mm arm range version featuring a 6 kg maximum load.
According to Trio, the range also features the Trio motion coordinator that can control the entire machine in lieu of a separate controller for machine and robot.
Each of the four SCARA robots is powered by four Trio MX series servo motors, which are each controlled by a Trio DX4 servo drive, according to the Trio team.
The range of SCARA robots reportedly improves productivity for applications including assembly, pick and place, and dispensing.
Food processing robots
Tech company Soft Robotics has brought its Soft AI solution to the food processing industry to automate food picking and packaging tasks in an industry hard hit by labor shortages.
According to the company, the Soft AI food processing robot features 3D vision, soft grasping, artificial intelligence (AI) software, intelligent motion control, real-time object tracking, scene analysis, perception modules and more.
Soft AI can reportedly handle food tasks ranging from the packaging of meats to the picking and placing of delicate food objects such as vegetables and baked goods, thereby automating material handing tasks in the food manufacturing space.
In addition to filling critical labor shortages, Soft AI promises safe food handling amid tightening food safety regulations, according to the company.
Watch the accompanying video that appears courtesy of Soft Robotics for more information on the Soft AI solution.
An octopus-like bot
Engineers from The Ohio State University and the Georgia Institute of Technology have developed an octopus-like robot that is capable of twisting, bending and stretching without a motor.
According to its developers, the robotic arm, which features embedded magnetic particles, moves in response to changes in the surrounding magnetic field.
The robotic arm is comprised of different individual segments of hexagonal-shaped, soft dual silicon plates connected by tilted plastic panels that mimic an origami-like pattern.
Once placed in a controllable magnetic field, each segment could be individually controlled due to each segment containing its own magnetic particles, reportedly giving the robot arm 360° of movement. The robot arm was also capable of changing its length by compressing its segments via twisting or pulling them to elongate the arm.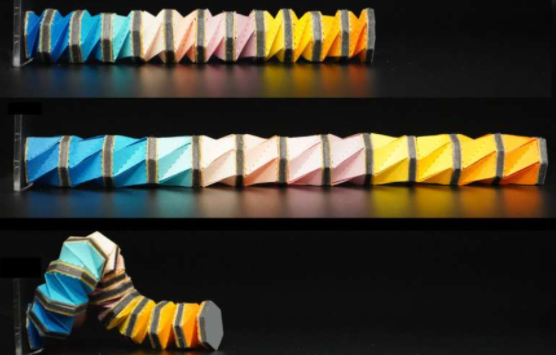 An octopus-inspired, origami robotic arm. Source: Shuai Wu
The researchers suggest that computerizing the magnetic field could eventually enable very fine control of the arm via a game-like controller.
To see the stretchable origami robotic arm with omnidirectional bending and twisting, watch the accompanying video that appears courtesy of Proceedings of the National Academy of Sciences.
Safety bots
Automotive manufacturing giant Hyundai Motor has announced a pilot test of its factory safety monitoring robot, the "Factory Safety Service Robot."
Following its acquisition in mid 2021 of Boston Dynamics — the maker of the robot dog Spot — Hyundai Motor has transformed one of Boston Dynamics' Spot robot dogs into a system that maintains the safety of personnel in the manufacturing space.
The pilot, which is being conducted at a Kia Manufacturing plant in South Korea, is testing the Factory Safety Service Robot's features, which include AI for detecting people in the manufacturing space, a thermal camera for detecting high temperatures associated with fires and other risks, navigation technology for moving within the space and lidar technology for detecting open doors and other possible obstacles.
The Factory Safety Service Robot can also be remotely operated, shares real-time photos of the facility floor and issues an alarm in the event of an emergency.
Screwdriving bots
To automate repetitive screwdriving tasks in manufacturing settings, tool and software solutions company Robotiq has developed its Screwdriving Solution.
The Screwdriving Solution automates the often repetitive and dull task of screwdriving in the manufacturing space, offering autonomous precision fastening to torques of 1 Nm to 4 Nm, according to the company.
The system includes error-proofing features, such as screw presence detection, torque control and position monitoring, and enables 5 minute changeovers.
The easy-to-deploy solution automates a manufacturing task that can often result in inconsistencies that lead to eventual product recalls and assembly line downtime or even stress injuries. Additionally, the technology frees up human workers for higher value tasks.
Automating such tasks can also help to fill a global labor shortage, according to Robotiq.
These are just a few of the most recent examples of how manufacturers are automating the manufacturing space — a trend that is only likely to persist. Stay tuned to Engineering360 for more coverage of these and other manufacturing technology developments.