Mind-reading robot promises to improve assembly line productivity
Marie Donlon | January 10, 2022
An industrial robot reportedly capable of determining human intention in the manufacturing setting has been developed by engineers at China Three Gorges University's Intelligent Manufacturing Innovation Technology Centre.
The industrial robot, which was tested by the researchers on a factory assembly line, monitored the brain waves of volunteers working alongside the robots and wearing non-invasive brain wave detectors. Likewise, the robots collected electrical signals from the muscles of their human co-workers via sensors.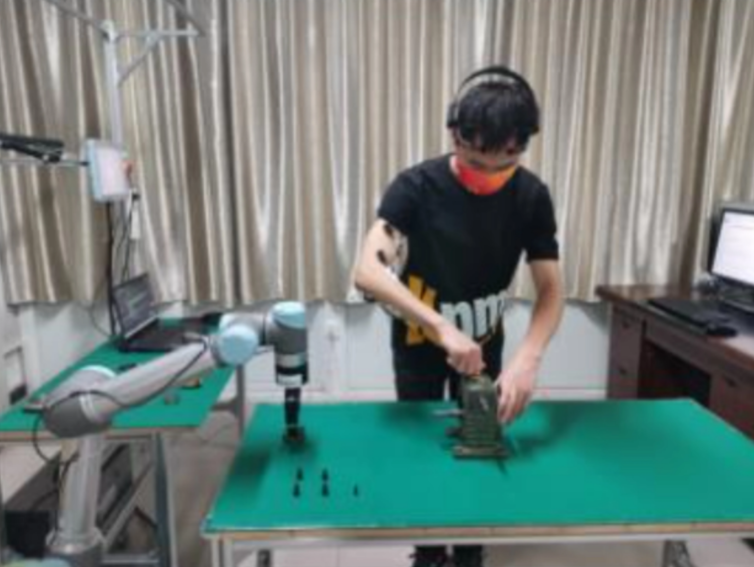 Source: Dong Yuanfa, Intelligent Manufacturing Innovation Technology Centre, China Three Gorges University
Using the information culled from the brain waves and muscle activity and without verbal instruction from the human coworker, the robot reportedly picked up a tool and placed it on a workstation and even assembled a product.
After hundreds of hours of training, the researchers reported that the industrial robot carried out its human co-worker's intentions, as determined via muscle activity and brain waves, roughly 70% of the time.
According to the researchers, such robots could potentially — after even more training — improve the pace of an assembly line.
"In modern industrial manufacturing, assembly work accounts for 45 per cent of the total workload, and 20-30 per cent of the total production cost," said project lead scientist Dong Yuanfa.
The team details their work in the journal China Mechanical Engineering.