New range of SCARA robots released by Trio Motion Technology
Marie Donlon | November 16, 2021
Trio Motion Technology, a U.K.-based manufacturer of robots, has developed a range of Selective Compliance Assembly Robot Arms (SCARA) for electronics, manufacturing, packaging and material handling applications.
The new range of SCARA robots include four different iterations spanning from a 400 mm arm range model with a 3 kg maximum load capacity to a 700 mm arm range version featuring a 6 kg maximum load.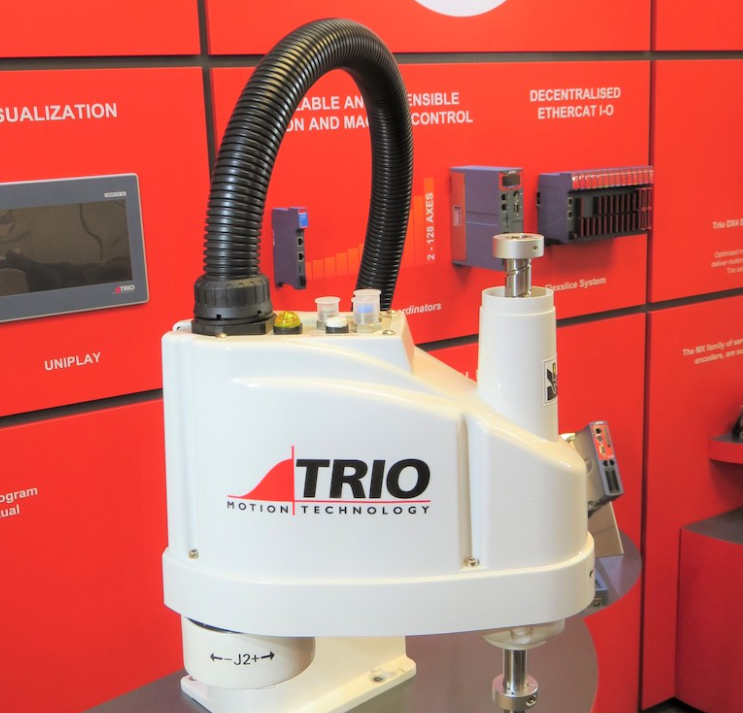 Source: Trio Motion Technology
According to Trio, the range also features the Trio motion coordinator that can control the entire machine in lieu of a separate controller for machine and robot.
Each of the four SCARA robots is powered by four Trio MX series servo motors, which are each controlled by a Trio DX4 servo drive, according to the Trio team.
The range of SCARA robots reportedly improves productivity for applications including assembly, pick and place, and dispensing.
Tom Alexander, president of Trio Motion Technology, explained: "The productivity and efficiency of applications such as pick and place are enhanced by SCARA robots, so extending Trio's automation portfolio with a range of high performance integrated robots is advantageous to OEMs that build machines for a range of industries.
"Integrating robot, motion and machine automation into a single controller enables faster development for the OEM.
"Crucially, it means reduced field downtime for their customers, giving machine users increased productivity. Minimizing development and maintenance challenges, combined with using just one controller for all tasks, also means a lower cost machine."