A Salty Solution for Safer Batteries
Engineering360 News Desk | December 01, 2015
A team of researchers from the University of Maryland (UMD) and the U.S. Army Research Laboratory (ARL) have devised a "water-in-salt" aqueous lithium-ion battery technology that could provide performance comparable to today's lithium-ion batteries but without the associated risk of fire, poisonous chemicals and environmental hazards.
Researchers led by Chunsheng Wang, associate professor in UMD's Department of Chemical & Biomolecular Engineering, and Kang Xu, senior research chemist at the Sensor and Electron Devices Directorate of ARL, say the key was the use of a type of water-based electrolyte containing high concentrations of a carefully selected lithium salt. This approach transformed the battery's chemistry, resulting in the formation of a protective film on the anode electrode.
Known in battery science as a "solid electrolyte interphase" (SEI), such a protective and stabilizing film is essential to the high-performance characteristics of state-of-the-art lithium-ion batteries, the researchers say. It previously has been achieved only in non-aqueous electrolytes.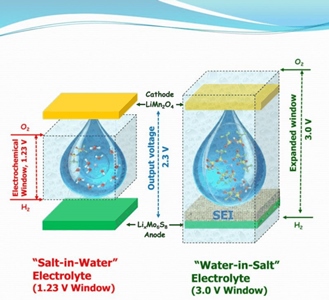 The electrochemical window of aqueous electrolyte was increased from under 1.5 volts to around 3.0 volts. Image credit: UMD Department of Chemical & Biomolecular Engineering.The team compared the performance of their "water-in-salt" battery with that of other aqueous battery systems. They showed that high stability of other aqueous batteries was achieved only at the expense of voltage and energy density, and vice versa. However, the formation of an anode/electrolyte interphase in their "water-in-salt" electrolyte allowed this inverse relationship between cycling stability and high voltage to be broken and to achieve both simultaneously.
"Through this work we were able to increase the electrochemical window of aqueous electrolyte from less than 1.5 volts to around 3.0 volts and demonstrated [a] high-voltage aqueous full lithium-ion cell with 2.3 volts," says Wang. This shows that aqueous batteries could possibly compete in terms of power and energy density with the non-aqueous lithium-ion batteries that power mobile and digital devices.
The researchers say their technology holds promise in applications that involve large energies at kilowatt or megawatt levels, such as electric vehicles or grid-storage devices for energy harvest systems, and in applications in which safety and toxicity are primary concerns, such as batteries for airplanes, naval vessels, spaceships and medical devices like pacemakers.