Engineering safety and performance into the lithium ion battery
S. Himmelstein | December 23, 2019
The safety of li-ion batteries has improved with the use of aqueous electrolytes, which reduce flammability risk. However, these substitutes incur a performance cost in terms of a reduced electrochemical stability window and lower energy and power densities relative to batteries with organic electrolytes. By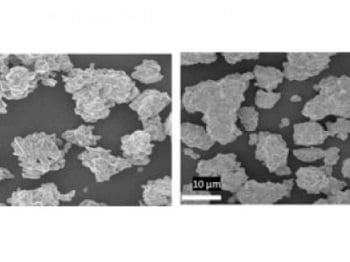 Niobium tungsten oxide particles constitute the battery anode. Source: Rensselaer Polytechnic Instituteoptimizing material combinations for electrodes as well as the electrolyte, battery safety and performance can both be realized.
Researchers from Lawrence Berkeley National Laboratory and Rensselaer Polytechnic Institute tested niobium tungsten oxide anodes and lithium manganese oxide cathodes with water-in-salt electrolytes. The battery system demonstrated volumetric energy and power density greater than that documented for traditional aqueous li-ion batteries. The performance efficiency gains are attributed to the dense packing of niobium tungsten oxide particles in the anode and to the abundance of tunnels within the particles that allow fast diffusion of lithium ions and fast charging.
The battery design could offer an alternative to traditional power supplies in applications where high volumetric energy and power density are desired, such as portable electronics and electric vehicles.