Sperm-inspired micro-robots could be used for targeted drug-delivery
Marie Donlon | September 23, 2021
A team from Cornell University in Ithaca, New York, has created cell-sized swimming micro-robots inspired by sperm and bacteria that are powered and steered via ultrasound waves.
With the goal of developing a micro-robot that is capable of navigating the human body for targeted drug delivery applications, the researchers created micro-robotic swimmers that can be controlled via high-frequency sound waves.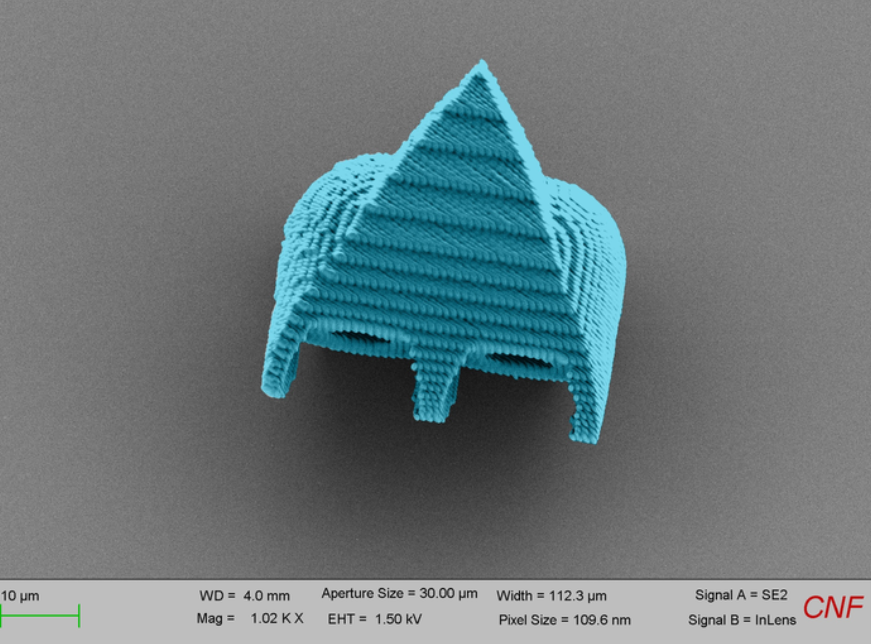 A scanning electron microscope image shows a cell-size robotic swimmer that can be powered and steered by ultrasound waves. Source: Cornell University
According to the team, the swimmers feature two cavities on their backs — differing from the single-cavity designs of previous swimming micro-robots. Comprised of hydrophobic resin material, the robot, when submerged in a liquid solution, formed air bubbles in each cavity. Once the bubbles were formed and subsequently trapped, the researchers aimed an ultrasound transducer at the robot, thereby oscillating the air bubbles and producing vortices that propelled the device.
The team demonstrated that they could vary the resonance frequency of the sound waves to excite either of the bubbles individually or both simultaneously to control the micro-robot's propulsion direction.
Eventually, the team intends to make these robotic swimmers biocompatible so that they can safely navigate among blood cells in the human body.
The research appears in the journal Lab on a Chip.