These swimming bots are four times faster than similar swimming bots
Marie Donlon | November 23, 2022
Researchers at North Carolina State University have developed a manta-ray inspired soft robot capable of swimming four times faster than robots of similar design.
The team developed two different swimming robots, dubbed "Butterfly Bots" for their resemblance to swimmers performing the butterfly stroke.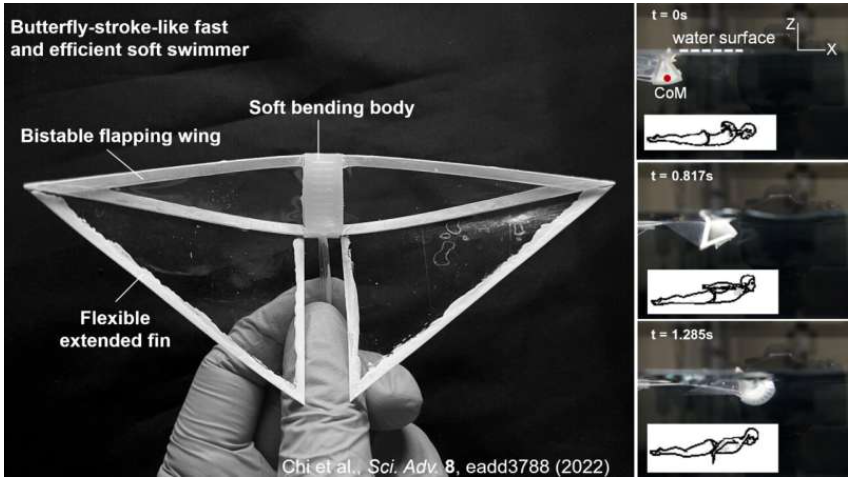 Inspired by the biomechanics of the manta ray, researchers at North Carolina State University have developed an energy-efficient soft robot that can swim more than four times faster than previous swimming soft robots. The robots are called "butterfly bots," because their swimming motion resembles the way a person's arms move when they are swimming the butterfly stroke. Source: Jie Yin, North Carolina State University
Current iterations of swimming robots reportedly achieve speeds of one body length per second. However, the Butterfly Bot built for speed achieved speeds of 3.74 body lengths per second, according to its developers.
Meanwhile, the second Butterfly Bot design, built for maneuverability, reportedly achieved 1.7 body lengths per second while also being capable of performing sharp right- and left-hand turns.
To achieve these speeds, the Butterfly Bots derive power from their bistable wings, which means that the wings have two stable states. For example, the wing is stable until energy is applied. When that energy reaches a critical point, the wing will snap, much like a snap hair clip, into a different but similarly stable shape.
Further, the bistable wings of the butterfly bots are attached to the robots' soft, silicone bodies. Operators pump air into the chambers inside the soft body of the bots to control the switch between the wings' two stable states, thereby forcing the body to bend up and down and, consequently, causing the wings to snap back and forth by inflating and deflating the chambers.
"Most previous attempts to develop flapping robots have focused on using motors to provide power directly to the wings," the researchers explained. "Our approach uses bistable wings that are passively driven by moving the central body. This is an important distinction, because it allows for a simplified design, which lowers the weight."
The paper detailing the Butterfly Bots, "Snapping for high-speed and high-efficient, butterfly stroke-like soft swimmer," appears in the journal Science Advances.
For more information on the Butterfly Bots, watch the accompanying video that appears courtesy of North Carolina State University.