Nanoscience Instruments debuts its Axia ChemiSEM
Engineering360 News Desk | September 06, 2021
Nanoscience Instruments has announced the launch of the Axia ChemiSEM, a low-cost floor model scanning electron microscope (SEM) from Thermo Fisher Scientific. The Axia uses ChemiSEM technology to accelerate imaging workflow and provide real-time elemental analysis and compositional imaging. The Axia features easy, automatic alignment and is always ready to image, making data acquisition more efficient than ever before.
The Axia ChemiSEM features an SEM-EDS integration: both backscattered electron (BSE) and X-ray (EDS) detectors are controlled by the same hardware, so EDS data is overlaid on the BSE image in real time. This means that the live SEM display is colorized according to elemental composition, allowing users to find features of interest with ease.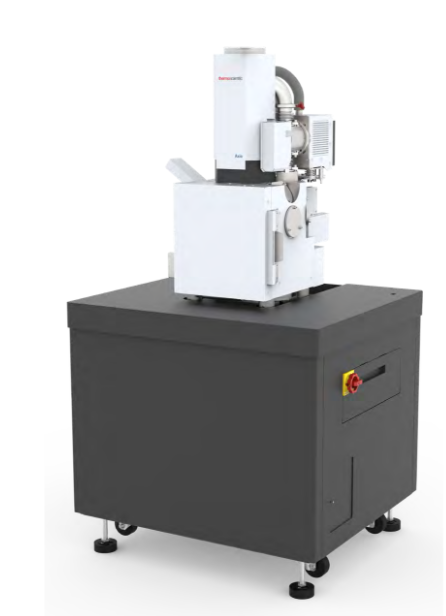 Source: Thermo Fisher Scientific
According to Sebastian Kossek, PhD, co-CEO of Nanoscience Instruments, "The Axia makes imaging easy for all users with its high level of automation. The system automatically maintains alignment for crisp images, and the Axia's User Interface offers user guides to help optimize imaging parameters for specific sample types. Even beginner SEM users can obtain meaningful elemental data with ease."
The Axia is compatible with the Thermo Scientific Maps software, which allows users to maximize productivity and throughput by supporting automatic SEM-EDS imaging. With the Maps Software, users can insert a sample in the chamber and set imaging parameters, EDS data acquisition settings, and large area mosaic stitching for overnight or weekend data acquisition. The Maps Software can also increase the Axia's capabilities by integrating up to four different detectors simultaneously, including: cathodoluminescence (CL), backscattered electron (BSE), secondary electron (SE), low vacuum SE, EDS and optical nav cam.
The Axia's sample chamber is designed for flexibility as well. With the Axia's large chamber size and weight capacity, users can increase throughput and eliminate the need to cut up samples. The modular stage can hold samples up to 280 mm in diameter, and 10 kg in weight, and the large chamber door allows access to the entire chamber. Once a sample is inserted and the chamber is closed, the beam can be turned on in less than two minutes, getting users to their data with unrivaled speed.
For more information about the Axia ChemiSEM, visit their website.