Turning sunflower pollen into 3D bioprinting ink
Marie Donlon | August 26, 2021
Researchers from Nanyang Technological University, Singapore (NTU Singapore) have developed a 3D bioprinting ink derived from sunflower pollen that could potentially be used to create parts for tissue engineering.
The material, which reportedly maintains its shape when deposited on surfaces, was developed when researchers incubated sunflower pollen in an alkaline solution for six hours, creating pollen microgel particles. The resulting pollen microgel was then mixed with hydrogels — alginate or hyaluronic acid, for instance — to create the pollen hydrogel hybrid ink.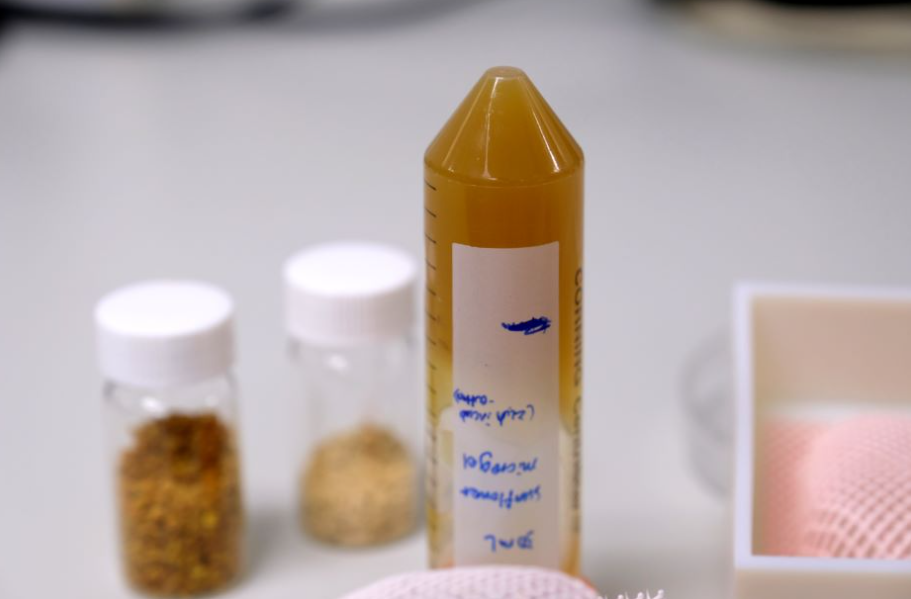 Pollen-derived ink (in the tube) is able to hold its shape when deposited onto a surface, making it a viable alternative to current inks used for 3D printing in the biomedical field. Source: NTU Singapore
In the lab, the team used the material to print a five layer tissue engineering scaffold for culturing cells in just 12 minutes and added collagen to the scaffold to serve as anchor points that cells can use to stick to and grow. Human cells were then seeded onto the scaffold, demonstrating high cell-seeding efficiency of 96% to 97% — similar to the performance of inverted colloidal crystal (ICC) hydrogels, which are typically used in the making of 3D cell culture platforms, but time-consuming and difficult to produce.
Co-lead author Professor Cho Nam-Joon of the NTU School of Materials Sciences and Engineering explained: "Through tuning the mechanical properties of sunflower pollen, we developed a pollen-based hybrid ink that can be used to print structures with good structural integrity. Utilizing pollen for 3D printing is a significant achievement as the process of making the pollen-based ink is sustainable and affordable. Given that there are numerous types of pollen species with distinct sizes, shapes, and surface properties, pollen microgel suspensions could potentially be used to create a new class of eco-friendly 3D printing materials."
The research appears in the journal Advanced Functional Materials.