Flexible pollen-based material could serve as building blocks for ecofriendly products
Siobhan Treacy | March 20, 2020
Researchers from NTU created a way to turn pollen into soft and flexible material. Pollen is one of the hardest materials in nature. The new method could turn pollen into the building blocks of new eco-friendly materials. The study's results give researchers insights into pollen's basic biological processes, like harmomegathy and germination.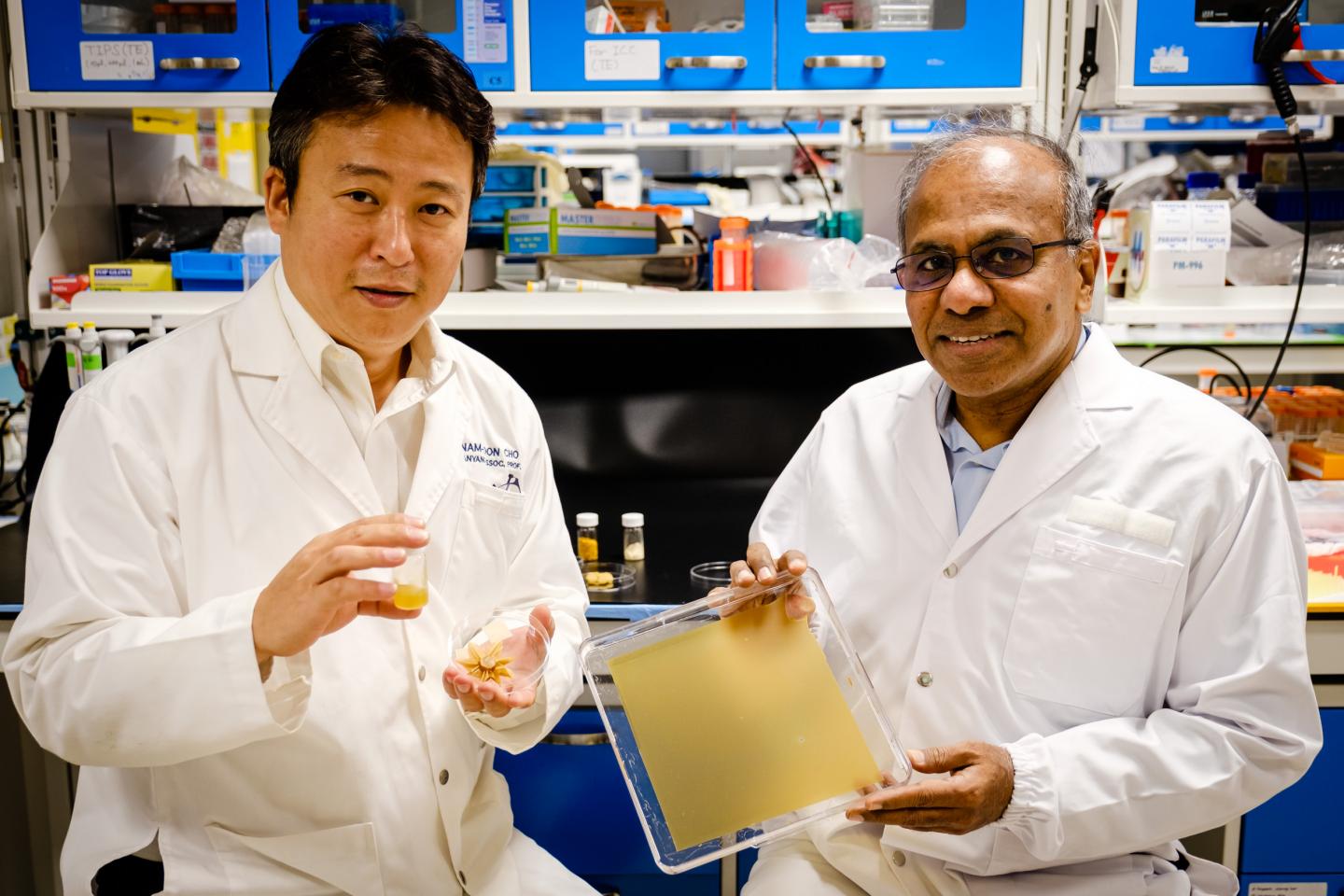 NTU Singapore scientists have found a way to turn pollen, one of the hardest materials in the plant kingdom, into a soft, flexible material. Pictured: NTU Distinguished University Professor Subra Suresh, who is also NTU President (right) and Professor Cho Nam-Joon, both co-authors of the paper (Source: NTU Singapore)
When released from a flower, pollen grains dehydrate and fold on themselves. When the pollen arrives on a female plant, it becomes hydrated and germinates with the pollen tube within the plant. Pollen tube growth is controlled by the enzymes within the pollen wall structure that alters the elasticity and leads to structural changes. This inspired the team to remodel the pollen wall structure and alter the material's properties.
Researchers removed the oil-based "pollen cement" layer and incubated the pollen grains in alkaline conditions for up to 12 hours. When the pollen wall was softened, the pollen grain particles swelled and became gel-like. The longer the grains were incubated the more gel-like the material became.
The elastic properties of outer and inner wall layers needed to fall within a certain range to create the gel-like behavior. This suggests that individual pollen particles have a chemical and physical pathway that determines if hydration leads to successful germination.
The pollen-based particles, combined with 3D or 4D printing could create a range of items, including polymer gels, sheets of paper and sponges. It also holds promise for environmentally sustainable, economically affordable and scalable applications.
The biocompatibility of the pollen-based microgels doesn't cause immunological, allergic and toxic reactions when exposed to humans. This means it could also be used to create wound dressings, prosthetics and implantable electronics.
A paper on this research was published in Nature Communications.