Video: Automated 3D bioprinting process uses peptide-based hydrogels
S. Himmelstein | April 29, 2021
A new automated bioprinting process developed at King Abdullah University of Science and Technology, Saudi Arabia, represents an advance in tissue engineering and regenerative medicine. The method prints a peptide-based hydrogel scaffold containing uniformly distributed cells. The structures maintain their shape as well as cell growth and viability for weeks.
Bioprinting with living cells is not new, but past efforts relied on natural bioinks, such as gelatin and collagen, and synthetic polymer hydrogels that require chemical or ultraviolet light to preserve scaffold shape in treatments that undermine cell viability to hold their shape, which affects the cell viability. The new cell-friendly bioinks are synthesized with three self-assembling ultrashort peptide hydrogels based on different combinations of the amino acids: isoleucine, lysine, phenylalanine and cyclohexylalanine.
The peptide bioink is inserted into one section of a triple-inlet nozzle as the buffer solution goes into another and cells are added through a third. After the ink gradually mixes with the buffer solution and combines with the cells at the nozzle's outlet, the material solidifies on ejection and effectively captures the cells.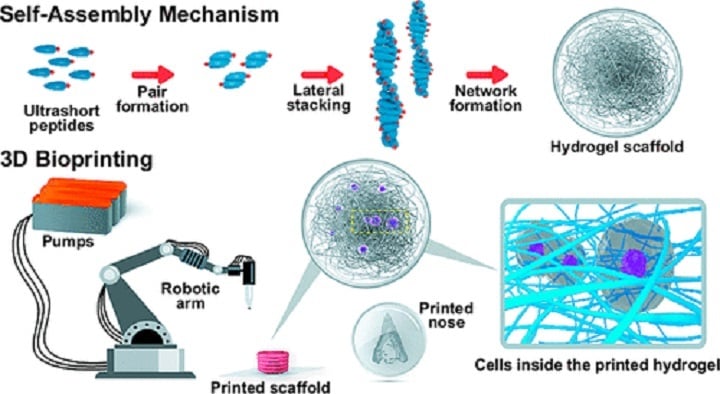 The automated process prints a peptide-based hydrogel scaffold containing uniformly distributed cells. Source: Charlotte A. E. Hauser et al.
Cylinders up to 4 cm tall and other structures were printed and demonstrated to maintain their specific shapes. The hydrogel matrix was also observed to support the survival and proliferation of human fibroblasts, human bone marrow mesenchymal stem cells and mouse brain neurons.
The researchers plan to extend the technology described in Nano Letters to the bioprinting of 3D disease models and miniature organs for diagnostic and drug testing applications.